Main content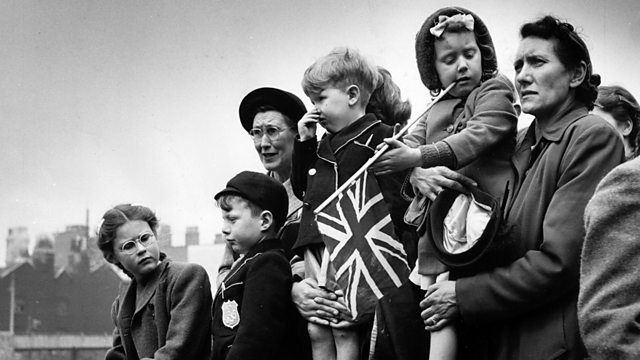 The Random Edition Festival of Britain Special
Peter Snow delves into a Daily Mail from May 1951 to recreate the excitement of the start of the Festival of Britain...from London's South Bank to Merseyside and North Wales.
Peter Snow with another journey into newspaper history. The Daily Mail for May 5th 1951 carried detailed reports of the previous day's events as the Festival of Britain at last swung into action.
The King and Queen opened the South Bank exhibition in London - Skylon, Dome of Discovery and all - and the Daily Mail carried a plan of the site. Visitors complained about the price of food in the restaurants. Memories come from Michael Frayn, Lionel Blue, broadcaster Edward Greenfield and Festival of Britain Society chairman Fred Peskett...as well as from Peter Snow himself.
But the programme also reflects the national character of the Festival, travelling to the mountains of North Wales to examine the Dolhendre Hillside Farm Scheme, which showed off modern farming methods to visitors from as far afield as Coventry and India. Dolhendre Isa Farm survives today in the hands of the same family who witnessed the dramatic changes the Festival brought.
Also told is the story of the Festival ship, Campania, which carried an exhibition to ports around the coast. There are memories from Merseysiders who converted the ship, sailed in it and visited it.
Elsewhere in this Random Edition, Charlotte Donaldson-Hudson recalls Noel Coward writing his wicked satire on the Festival, the song Don't Make Fun of the Fair, at her home in London: her film star mother was best friends with the songwriter.
Despite the festival fever, the government minister responsible for the event, Herbert Morrison, received fearful stick in the press. Peter Snow explains why. Also in the mix of course, many visits to the BBC Sound Archive (including a contribution from the inimitable Brian Johnston, learning how to drive huskies), plus more musical sounds that lit up the Festival.
Producer: Andrew Green
An Andrew Green production for BBC Radio 4.