Main content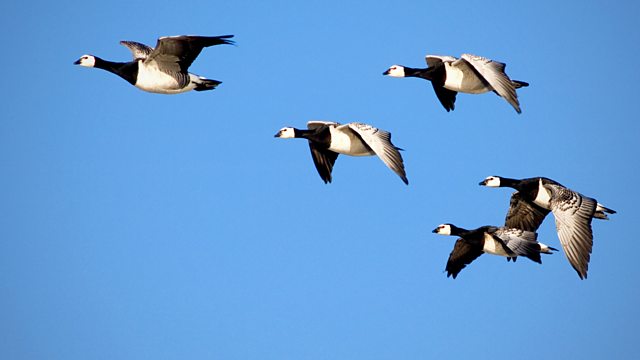 Islay Birds
Islay is a haven for birds. Michael Scott joins long time Islay resident Malcolm Ogilvie for a birdwatch along the shores of Loch Gruinart.
The island of Islay is the most southerly island of the Southern Hebrides and as such has an important role to play in Scottish birdlife. Also known as the Queen of the Hebrides this small island is, in winter, host to thousands of winter migrant birds as they escape the harsh Arctic weather. Some birds use the island as a stop over point to rest and feed before heading away on migration, other species, such as barnacle geese stay the entire winter, leaving in the spring.
This weeks Living World, finds Michael Scott leaving the Scottish mainland to travel the two and a half hour journey by ferry to meet an old friend of his Malcolm Ogilvie. Malcolm has been studying the geese of the island for nearly 50 years and has been resident here for half that time. But Islay has so much more birdlife to offer than geese; indeed in the autumn and spring keen birdwatchers come to the island to attempt a remarkable feat, to see over 100 different species of birds on the island in a single day.
Michael and Malcolm visit over the winter and therefore aim for lower numbers of birds to be seen during this visit, by concentrating on one small but beautiful area of Islay, Loch Gruinart on the northern coast of the island. Beginning at the head of Gruinart, huge numbers of barnacle geese can be seen feeding on the flooded fields below, geese that move and erupt into restless flight in ever increasing numbers, a spectacle that is both beautiful and awesome to behold. At the head of the Loch is Ardnave Point where different species of birds can be seen both on a small isolated lochan and at the spectacular mouth of the Loch, framed by the islands of Jura and Mull beyond. However one of the real jewel species of these islands is a rare member of the crow family, the chough. Islay holds a sixth of the UK's chough population and Michael is keen to see these birds on this visit as he scans the horizon from a windswept dune system overlooking the sea. Is that their call being carried along by the buffeting wind on the ridge? Yes, here they come, these acrobatic specialists, right on cue.
Last on