Main content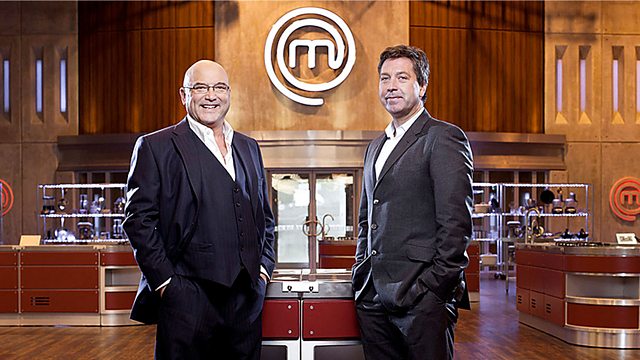 Episode 12
The remaining contestants are sent to Madrid to learn the art of molecular gastronomy, then it's back to London to prepare a four-course extravaganza for the Royal Society.
MasterChef's four best amateurs are pushed to the extreme edges of modern culinary invention as they fight for a place in the final three.
Judges John Torode and Gregg Wallace send the contestants to Madrid to learn from Paco Roncero, a master in the art of molecular gastronomy and prodigy of Ferran Adria of elBulli. It is the first time amateurs have ever set foot in Paco's kitchen, Casino de Madrid, and it is a steep and scientific learning curve. The contestants don their goggles as they battle with new processes such as spherification and using liquid nitrogen as they prepare four of Paco's signature dishes for the master. The amateurs must hold their nerve if they are to pull off these feats of execution.
Then it is back to London, where the amateurs experiment with their own food for some of the greatest scientific minds of the Royal Society, including one Nobel Prize winner. With all of them playing with smoke, fire and culinary mirrors, there is high drama in the kitchen as they prepare a four-course extravaganza with a scientific slant. The pressure is immense as not only are they are testing methods and ideas for the first time, but their trickery has to taste great to win over their formidable scientific guests.
The journey culminates in one last challenge in the studio to decide which three will make this year's MasterChef Finals, and who will be leaving the competition. The tension is palpable as the four cooks push themselves to the limit with one show-stopping dish for John and Gregg. Any mistake could be terminal and end their culinary dream.
Only the best will become finalists and have the chance to lift this year's MasterChef trophy.
Credits
| Role | Contributor |
| --- | --- |
| Presenter | John Torode |
| Presenter | John Torode |
| Presenter | Gregg Wallace |
| Presenter | Gregg Wallace |
| Director | Dave Crerar |
| Director | Dave Crerar |
| Series Producer | Antonia Lloyd |
| Series Producer | Antonia Lloyd |