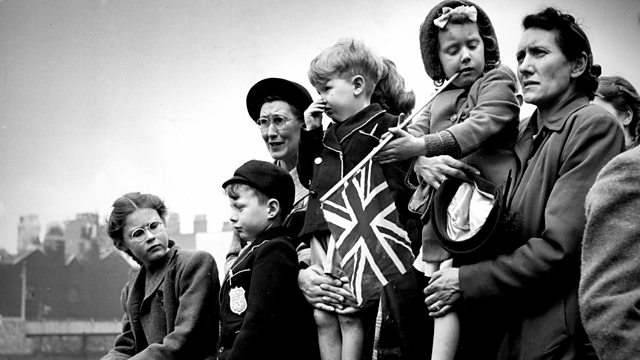 A Tonic for the Nation - the 60th Anniversary of the Festival of Britain
Barbara Windsor tells the story of the 1951 Festival of Britain, described by Prime Minister Clement Attlee at the time as "a tonic for the nation", and examines its heritage.
After the joy of victory in the Second World War, came years of rebuilding, restoration and continued rationing. Britain's position as a world power had to be reconsidered. The Empire was gradually relinquished; Britain now looked inwards, not outwards; and somehow the nation needed to be redefined. The Festival of Britain aimed to address these years of doubt. Just like its predecessor, the Great Exhibition of 1851, this was meant to be a celebration of British culture, society and economy.
Although it was a national festival, the most important festival site was the South Bank of the Thames at Lambeth. Here, an area of old Victorian industrial buildings and railway sidings was transformed. New structures were built to house exhibitions exploring Britain's landscape, the British character, British industry and science. The structures included a new concert hall - the Royal Festival Hall, the Dome of Discovery and the astonishingly slender Skylon.
Although the Festival took pride in Britain's past, most of the exhibits looked to the future. Science and technology featured strongly. In one of the pavilions, many Londoners saw their first ever television pictures. Elsewhere in London, in Battersea Park, a large funfair was erected; and in Poplar, east London, a new housing estate was built as a "live architecture exhibition", a kind of model village. Around Britain, exhibitions included the Industrial Power Exhibition in Glasgow; the Ulster Farm and Factory Exhibition in Belfast; while the Land Travelling Exhibitions and the Festival Ship Campania travelled from town to town and city to city.
By September 1951, over eight million people had visited the South Bank exhibition. The festival transformed it from a site of industry to a place of culture and the arts. Profits from the Festival were retained by the London County Council and were used to convert the Royal Festival Hall into a concert hall and to establish The South Bank - a group of arts-related buildings that, by the end of the century, included the National Theatre and the National Film Theatre.
Contributors include Ray Davies, Sir Terence Conran, Wayne Hemingway, Dr Robert Anderson, Stephen Bayley, Tracy Emin, Jude Kelly, Tim Marlow, Lord Norman Foster and Billy Bragg.