Main content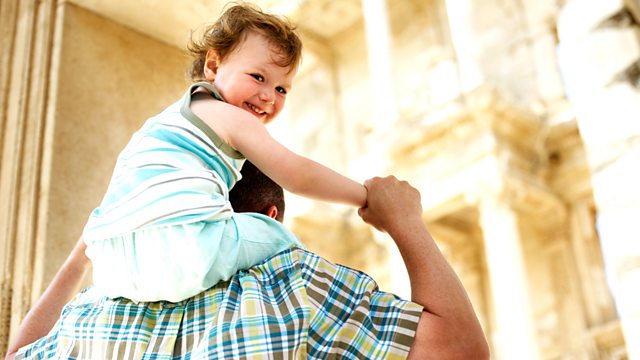 Gulf War artist John Keane discusses how his children have influenced how he sees his art and his role as a father.
Lou Stein's investigation into the connections between fatherhood and creativity continues with Gulf War Artist John Keane's look at how his children have influenced how he sees his art and his role as a father. His paintings reflect on the the dire poverty and hopelessness which can flourish in third world countries in conflict. Although the nature of his interests means that he is constantly travelling to politically explosive parts of the world, fatherhood has helped him maintain an emotional balance in his life.
"It was not until my daughter was eleven and my son six that an idea emerged for a painting that blended with the theme of my work at that time, and flowed naturally into the series that I was putting together for an exhibition entitled Intelligent Design. I had become fascinated with the images of the outer reaches of the universe transmitted to us from the orbiting Hubble telescope. The sheer wonder of the vastness of what is out there defies comprehension but inspires awe. And what we see there is what we are. Stardust. Coalesced somehow into an intelligent life form, and circumscribed by love and cruelty. Against this I had also a photograph of my two children, holding hands, standing on a Suffolk beach in front of the ocean and gazing out to the horizon, their backs toward me. The idea occurred to me of substituting the object of their gaze, the chilly greys of the North Sea, for the rich hues of outer space, and this charged the image with a resonance invoking both the micro- and macrocosmic, but more than anything else it just reminded me of that old logo from my own childhood of Start-rite shoes - and this resonance was perfect."
Notes:
JOHN KEANE Gulf War artist John Keane was born in Hertfordshire in 1954 and attended Camberwell School of Art. His work has focused on many of the pressing political questions of our age, and he came to national prominence in 1991 when he was appointed as official British War Artist during the Gulf War. His subject matter has subsequently addressed difficult topics in relation to religiously inspired terrorism such as Guantanamo Bay, the Moscow theatre siege and homegrown violence against civilians. Most recently, he has also become known for the portraits of Mo Mowlam, Jon Snow and Kofi Annan.