Main content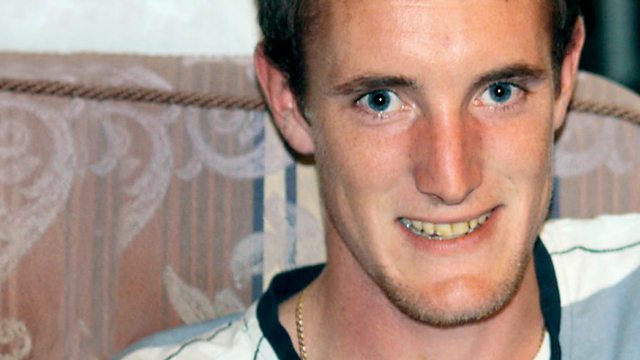 The Gatwick Baby: Abandoned at Birth
Documentary about 24-year-old Steven Hydes, abandoned in the ladies toilet at Gatwick Airport when he was just ten days old, as he embarks on a journey to find his birth mother.
Steven Hydes was abandoned in the ladies toilet at Gatwick Airport when he was just ten days old, wrapped in a blanket and with a spare babygro by his side. Dubbed 'Gatwick Gary' by the newspapers at the time, his family never came back to claim him. With no birth certificate or clue to where he had come from, Steven has spent his life not knowing a thing about his identity.
Steven was adopted at six months old and now 24 years later, with the support of his adoptive parents, he wants to find his birth mum - 'even though I've had this amazing upbringing I don't think I will ever stop searching until I get my answers.'
He is about to embark on a life-defining journey, a detective story that might answer the most important questions of all - who am I and where do I come from? Being found in an airport means it's a worldwide search. He uses science in his desperate search for answers; can DNA testing pinpoint his racial make-up and will that narrow the search for his mum?
Being a doting father himself it's a question that dogs him: what made his mother leave him to the mercy of strangers? 'It does make me wonder why things didn't work out with me. What happened to make them able to abandon me like that? I couldn't imagine my daughter being abandoned, so it makes me want to find out'.
In this touching documentary, Steven also meets other foundlings, the term given to babies who have been found abandoned. What have they done to search for answers? How do they cope with knowing nothing about their origins? As Steven shares his experiences, the bond between these individuals, who have such unusual stories, is clearly visible.
His journey ends with a heart-rending appeal to his birth mum via a national newspaper. But will he ever find the answers he seeks?
Credits
| Role | Contributor |
| --- | --- |
| Narrator | Lenora Crichlow |
| Executive Producer | Ninder Billing |
Broadcasts
BBC One

except Northern Ireland & Scotland