Main content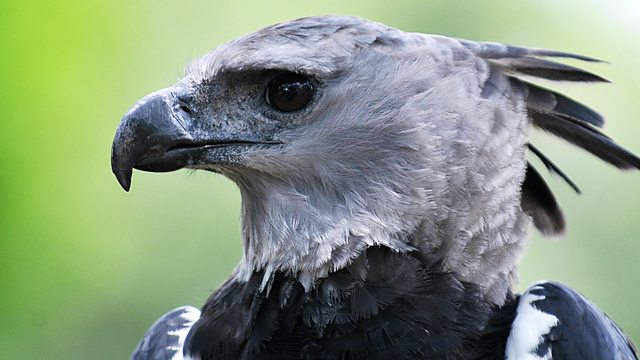 James and the Giant Eagle
4 Extra Debut. In the rainforest canopy, James Aldred encounters one of the world's most powerful birds of prey, the Harpy Eagle. From April 2011.
Like most small boys James Aldred loved climbing trees and now he has grown up, he's still climbing trees; helping scientists and film crews up into the canopy. When he was invited to help a wildlife team film one of the world's largest eagles in Southern Brazil, it was an offer he couldn't refuse. But what happened next was a nerve-wracking and painful encounter with one of the world's most powerful birds. Harpy Eagles have a body length of over 3ft, a wingspan of over 6ft and weigh 10-12 pounds. Their hind talons can grow up to the size of grizzly bear claws, and are used to strike their prey; monkeys, sloths and possums, which they then carry aloft. When James was asked to climb a tree, to assist with moving a camera on an eagle's nest, he found out exactly why these birds have such an awesome reputation.
Harpy Eagles are found in tropical lowland forests from southeast Mexico to northern Argentina and southern Brazil. Their name is derived from the Harpies in Greek Mythology, which were ferocious winged creatures with sharp claws, a woman's face and a vulture's body.
Harpy Eagles are successful predators, owing primarily to their size and strength. They are also highly manoeuvrable fliers. They have excellent eyesight and good hearing, and are acutely observant and opportunistic birds. Taken together these attributes make for a highly impressive predator. Recordings made by James Aldred on location are combined with interviews with ornithologist Ian Newton and field biologist, Marta Curti (who has spent many years working with Harpy Eagles with The Peregrine Fund) in a programme which explores the behaviour and ecology of Harpy Eagles and what happens when a female tries to protect her young.
Producer Sarah Blunt.
Last on
Broadcasts