Main content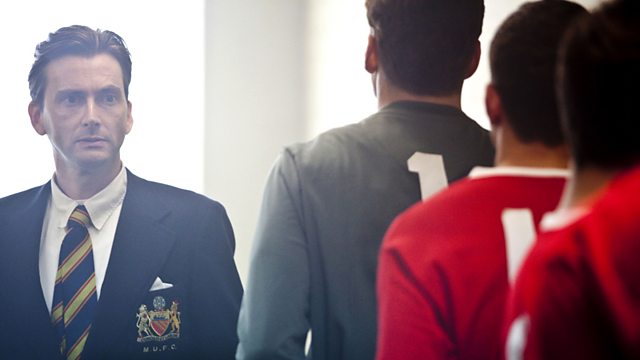 David Tennant in United; Ray Winstone in Tracker
With John Wilson. David Tennant in United, a TV drama based on the true story of Manchester United's Busby Babes in the 1950s. Plus Ray Winstone in the film Tracker.
With John Wilson.
David Tennant and Dougray Scott star in the TV drama United, based on the true story of the Busby Babes, Manchester United's star team of young players, who lost eight of their members in the 1958 Munich air crash. Sports writer Jim White reviews.
Word of mouth is a powerful force in the arts - but how will it work in the digital future? Continuing Front Row's digital series, Pulitzer prize-winning author Jennifer Egan and Annette Mees of Coney, creator of immersive theatre and interactive adventures, discuss whether we will trust recommendations from virtual friends, and Alex Woodford, head of AKA's digital marketing department, explains how he nurtures positive word of mouth online.
In the film Tracker, Ray Winstone is a guerrilla fighter from the South African Boer war sent on a manhunt through the landscape of New Zealand, on the trail of a Maori seaman accused of murder. Antonia Quirke reviews.
The film Monsters is the directorial debut of Gareth Edwards, an Emmy-nominated visual effects editor. He reveals how he made his low budget "love story with monsters attached", just released on DVD. The film caught the eye of Hollywood and now he has the chance to make a new big budget Godzilla.
Following the news of the death of the photojournalist and documentary-maker Tim Hetherington whilst under fire in Libya, Front Row pays tribute to him.
Producer Philippa Ritchie.
Last on
Chapters
United

Review of the TV drama based on the true story of the 1958 Manchester United tragedy.

Duration: 05:41

Word of mouth in the digital future

How trustworthy do we find recommendations from virtual friends?

Duration: 14:33

Tracker

Ray Winstone stars as a guerrilla fighter on a manhunt across the New Zealand landscape.

Duration: 18:47

Monsters

Film director Gareth Edwards talks about his low-budget debut.

Duration: 27:36

Tim Hetherington

Tribute to the photojournalist and documentary-maker killed whilst under fire in Libya.

Duration: 29:25

Broadcast