Main content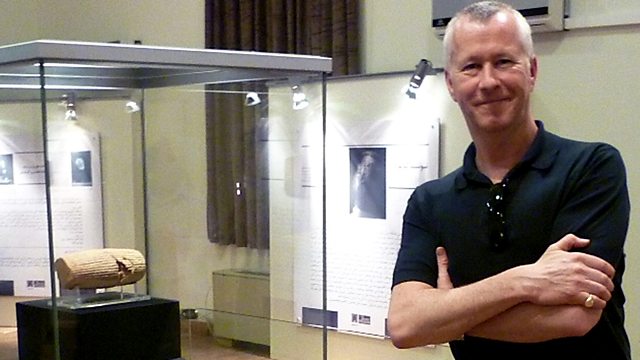 John Wilson in Iran
With John Wilson, including a report from Iran as the Cyrus Cylinder leaves the country; Canadian guitarist Robbie Robertson; composer Shirley Thompson creates music on her phone.
With John Wilson
The Cyrus Cylinder is a 2,500 year old clay artifact which contains an inscription regarded as the world's first recorded bill of human rights. It's been on display in Iran's National Museum for seven months, on loan from the British Museum. As the object returns to the UK, John reports from Iran on what the Persian object means to the people in Tehran who have been flocking to see it.
Legendary Canadian guitarist Robbie Robertson discusses how his past with The Band inspired songs on his latest album. He also remembers playing with Bob Dylan on the famous tour of 1966 when Dylan was accused, by a heckler, of being Judas for going electric.
In the second part of Front Row's investigation into the impact of digital technology on the arts, the composer Shirley Thompson moves away from her composing comfort zone to create music on a mobile phone app, as she travels across London.
Beryl Bainbridge, who died last year, was nominated for the Booker prize five times, without ever winning. She has now been granted a posthumous honour, the Man Booker Best of Beryl award, selected from her novels by public vote. Writer Ronald Harwood announces the winning title on Front Row.
Producer: Claire Bartleet.
Last on
Chapters
Cyrus Cylinder

John Wilson reports from Iran on what the Cyrus Cylinder means to people in Tehran.

Duration: 11:51

Robbie Robertson

The guitarist discusses how his past with The Band inspired songs on his latest album.

Duration: 20:48

Impact of digital technology on the arts

Composer Shirley Thompson creates music on a mobile phone as she travels across London.

Duration: 26:51

Man Booker Best of Beryl

Posthumous honour for Beryl Bainbridge - five times nominee but never a winner.

Duration: 28:53

Broadcast