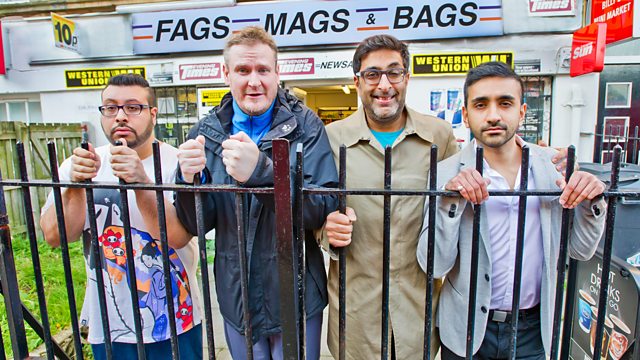 The hit Radio 4 series 'Fags, Mags & Bags' returns with more shop based shenanigans and over the counter philosophy, courtesy of Ramesh Mahju and his trusty sidekick Dave.
Written by and starring Donald McLeary and Sanjeev Kohli 'Fags, Mags & Bags' has proved a hit with the Radio 4 audience with this series picking up a Writers' Guild nomination for best comedy in 2011.
In this episode Sanjay goes on work experience at the local paper, The Lenzie Trumpet, and ends up writing the problem page which spells disaster for Ramesh and his loyal customers.
So join the staff of 'Fags, Mags and Bags' in their tireless quest to bring nice-price custard creams and cans of coke with Arabic writing on them to an ungrateful nation. Ramesh Mahju has built it up over the course of 30 years, and is a firmly entrenched feature of the local area. Ramesh loves the art of the 'shop'.
However; he does apply the 'low return' rules of the shop to all other aspects of his life. Ramesh is ably assisted by his shop sidekick Dave, a forty-something underachiever who shares Ramesh's love of the art of shopkeeping, even if he is treated like a slave.
Then of course there are Ramesh's sons Sanjay and Alok, both surly and not particularly keen on the old school approach to shopkeeping, but natural successors to the business, and Ramesh is keen to pass all his worldly wisdom onto them whether they like it or not!
Cast:
Ramesh ..... Sanjeev Kohli
Dave ..... Donald Mcleary
Sanjay ..... Omar Raza
Alok ...... Susheel Kumar
Keith Futures ...... Greg McHugh
Hilly ..... Kate Brailsford
Lovely Sue ..... Julie Wilson Nimmo
Mutton Jeff ..... Sean Scanlan
Producer: Gus Beattie
A Comedy Unit production for BBC Radio 4.
Last on