Main content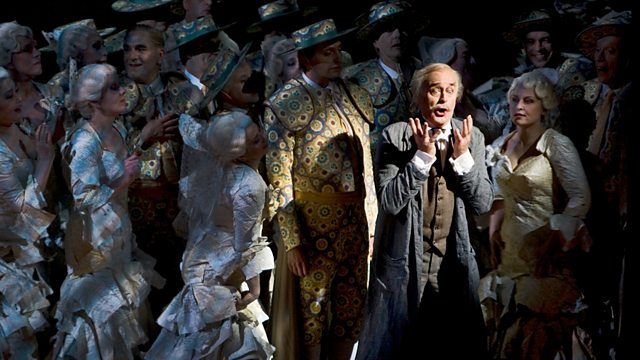 Massenet - Don Quixote
Massenet's operatic retelling of the adventures of Don Quixote, with Jose Van Dam in the title role and mezzo Silvia Tro Santafe as Dulcinea. Marc Minkowski conducts.
Regarded by many as the first true novel ever written, Don Quixote by Miguel de Cervantes was published in two parts early in the 1600s. The first opera based on the book appeared later that same century, and Henry Purcell wrote some incidental music to accompany a dramatic version of the story. Later there were more operas, several ballets and Richard Strauss's tone poem (which was included in Afternoon on 3 earlier this week - available via listen again until 19 April).
Massenet's operatic version, Don Quichotte, while not having found its way into the repertoire with his most popular operas, is musically one of his most attractive works. It's unashamedly melodic and evokes a strong sense of locale - one of Massenet's most notable skills. He called his opera a "heroic comedy": an appropriate description, as he creates a tone that acknowledges both the humor of the situation and the nobility of the Don's character. The opera was first staged in Monte Carlo in 1910.
Louise Fryer introduces this opera in 5 short acts. Act 1 sees Don Quixote and his sidekick Sancho Panza introduced to Dulcinea, and the Don immediately falls in love with her. Don Quixote then practises a serenade for his new love in Act 2, before mounting an attack on group of windmills which he thinks are giants! In Act 3 the Don is captured by bandits, who later take pity on the old man, moved by his "final" prayer. The action of Act 4 returns to Dulcinea's house where Don Quixote proposes to his love and is affectionately refused. In the final act he realises that his death is near - accompanied by a vision of Dulcinea.
In this production of the opera at the Monnaie Theatre in Brussels, the company's chorus and orchestra are joined by leading soloists including native Belgian bass-baritone Jose Van Dam (Don Quixote) and mezzo-soprano Silvia Tro Santafe (Dulcinea), under the baton of Marc Minkowski.
Dulcinea ..... Silvia Tro Santafe, mezzo-soprano
Don Quixote ..... Jose Van Dam, bass
Sancho Panza ..... Werner Van Mechelen, baritone
Pedro ..... Julie Mossay
Garcia ..... Camille Merckx
Rodriguez ..... Vincent Delhoume
Juan ..... Gijs Van der Linden
Lackey 1 ..... Andre Gregoire
Lackey 2 ..... Marc Coulon
Bandit chief ..... Bernard Villiers
Bandit 1 ..... Jacques Does
Bandit 2 ..... Aldo de Vernati
Bandit 3 ..... Gerard Lavalle
Bandit 4 ..... Pascal Macou
La Monnaie Chorus and Symphony Orchestra
Marc Minkowski, conductor
c. 4pm
Continuing this week's focus on the music of Anton Bruckner and composers closely associated with him.
Bruckner: Du bist wie eine Blume; Traumen und Wachen
BBC Singers
Stephen Cleobury (conductor)
c. 4.15pm
Saint-Saens: Symphony no. 3 in C Minor (Organ Symphony)
Daniel Roth (organ)
BBC National Orchestra of Wales
François-Xavier Roth (conductor).