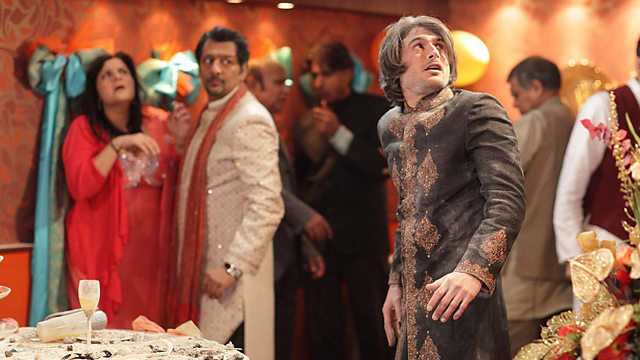 05/04/2011
Syed and Christian return home earlier than expected and find Afia and Tamwar in their bed. Syed urges them not to tell anyone they're married until the engagement party's over. Masood apologises to Afia and Tamwar. The walls of the Argee Bhajee are sodden and cracked, Greg won't start work until Masood's paid his last bill. Greg advises Masood to shut the restaurant down, but Masood decides to repair the damage himself. Yusef invites Syed to the engagement party, claiming it was Masood's idea. Masood's smug when everyone's impressed by the party; Yusef upstages him with an emotional speech about Afia. Tamwar's on the verge of revealing he and Afia are already married when Syed and Christian walk in. Zainab and Masood want them out, but Tamwar stands up to his parents. The Argee Bhajee roof collapses and a heavy beam lands on Syed.
Learning that Jane's going, Ian wangles an invitation to the engagement party from Yusef. Denise is nervous about going to the party as Yusef's date.
Carol tells Janine her grandmother, Lydia, is in hospital. Pat returns from New Zealand. She's furious with Janine for letting Whitney get involved in prostitution. To spite Pat, Janine tells her she's going to visit her 'proper' Gran. At the hospital, Janine realises Lydia needs somewhere to stay. Lydia claims she'll sell her house and put herself in a home, but sends Janine to take photos of her house, knowing full well Janine's attitude will change when she realises how valuable it is.
Ricky searches the streets for Whitney, showing her photo to young prostitutes. A police officer arrests Ricky after seeing him give money to one of the girls.
Heather's still addicted to her internet dating site, even though no men have shown any interest in her.
Last on
Credits
| Role | Contributor |
| --- | --- |
| Syed Masood | Marc Elliott |
| Christian Clarke | John Partridge |
| Zainab Masood | Nina Wadia |
| Masood Ahmed | Nitin Ganatra |
| Tamwar Masood | Himesh Patel |
| Afia Khan | Meryl Fernandes |
| Dr Yusef Khan | Ace Bhatti |
| Denise Fox | Diane Parish |
| Tanya Branning | Jo Joyner |
| Jane Beale | Laurie Brett |
| Ian Beale | Adam Woodyatt |
| Darren Miller | Charlie G Hawkins |
| Jodie Gold | Kylie Babbington |
| Zulekha Abbasi | Lisa Shah |
| Carol Jackson | Lindsey Coulson |
| Pat Evans | Pam St Clement |
| Ricky Butcher | Sid Owen |
| Janine Malloy | Charlie Brooks |
| Lydia Simmonds | Margaret Tyzack |
| Heather Trott | Cheryl Fergison |
| Shirley Carter | Linda Henry |
| Jean Slater | Gillian Wright |
| Dot Branning | June Brown |
| Greg Jessop | Stefan Booth |
| Liam Butcher | James Forde |
| Tiffany Butcher | Maisie Smith |
| Morgan Jackson-King | Devon Higgs |
| DC Newton | Luke Harris |
| Writer | Pete Lawson |
| Executive Producer | Bryan Kirkwood |
| Director | Jamie Annett |