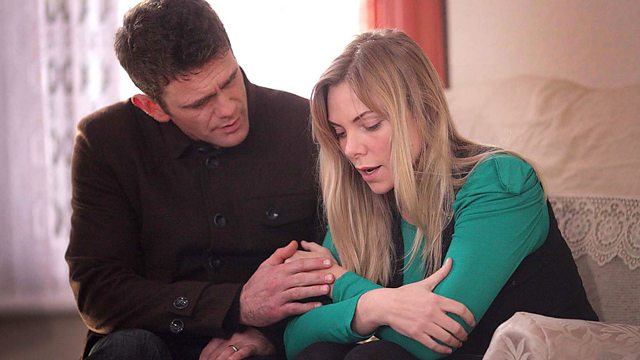 04/04/2011
At Aunt Sal's, Jack pleads with Ronnie to come home, and tells her she means the world to him. Ronnie relents and comes home, but she's as distracted and distant as ever. Jack despairs, he knew it wouldn't last.
Appalled at Masood's accusation, Afia storms out, and Tamwar says that until Masood apologizes to Afia, he has no father. Afia's upset that Masood could think she'd been with anyone else before Tamwar, and despairs that their parents will stop at nothing to split them up. Tamwar comes to a decision, and tells Jodie and Darren to meet him later; he and Afia are getting married today. Jane makes Masood see that he's made a terrible mistake. There's no sign of Tamwar and Afia and, worried that he's ruined everything, Masood confesses to Zainab. Later, Afia and Tamwar arrive back on the Square and, blissfully happy, cross the threshold of Christian and Syed's flat together; a married couple.
Christian takes Syed to Brighton for a few days, and Syed lends Tamwar keys to their flat to escape from the engagement preparations.
In an attempt get Kat interested in something, Alfie enters a competition to sell the most cocktails to win the chance of hosting a pub quiz with a £1000 prize. Kat's not impressed when the cocktails are awful, and they struggle to make a profit.
Roxy's livid when Michael tells her that Tanya's setting up a salon of her own, but quickly warms to his idea of selling the salon. After lots of hint dropping, Greg agrees to buy Roxy's salon for Tanya as her wedding present.
Ian attempts to impress Jane with his 'kindness' by helping Jean pick a cookery course as the Vic's new chef, but has no success.
Last on
Credits
| Role | Contributor |
| --- | --- |
| Afia Khan | Meryl Fernandes |
| Tamwar Masood | Himesh Patel |
| Darren Miller | Charlie G Hawkins |
| Jodie Gold | Kylie Babbington |
| Masood Ahmed | Nitin Ganatra |
| Zainab Masood | Nina Wadia |
| Ronnie Branning | Samantha Womack |
| Jack Branning | Scott Maslen |
| Roxy Mitchell | Rita Simons |
| Michael Moon | Steve John Shepherd |
| Tanya Branning | Jo Joyner |
| Greg Jessop | Stefan Booth |
| Alfie Moon | Shane Richie |
| Kat Moon | Jessie Wallace |
| Jean Slater | Gillian Wright |
| Ian Beale | Adam Woodyatt |
| Jane Beale | Laurie Brett |
| Christian Clarke | John Partridge |
| Syed Masood | Marc Elliott |
| Kim Fox | Tameka Empson |
| Sal Martin | Anna Karen |
| Executive Producer | Bryan Kirkwood |
| Director | Nicky Higgens |
| Writer | Lucy Gannon |