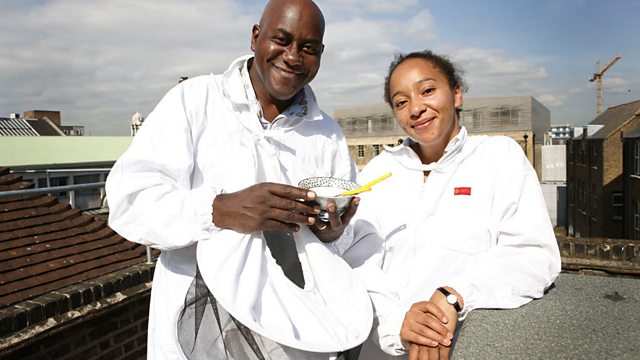 Ainsley Harriott on Honey and Glynn Purnell on Cheese
Series in which well-known chefs popularise traditional British produce. Ainsley Harriott campaigns for British honey and Glynn Purnell rides to the rescue of British cheese.
Some of our best Great British produce is under threat and this exciting series is a call to action as ten of the BBC's best-loved chefs and cooks help to bring our traditional produce back from the brink. We've got the rarest, tastiest and most culturally important ingredients right here under our noses, but they are in danger of being lost forever if we don't rally behind them.
Each episode of The Great British Food Revival takes two passionate presenters on a gastronomic journey to discover, cook with and reinvigorate our great heritage foods. Each show is a campaign by the hosts to raise awareness, get people cooking with, talking about and enjoying these great British ingredients.
In this fourth episode of the series, one of the UK's best known chefs, Ainsley Harriott, shows off his sweet side as he starts a campaign for the revival of British honey. With bees under threat from disease and a lack of awareness of our native honey production, Ainsley has to criss-cross the country to find out how we can all play our part in its revival. He also takes to the kitchen to show how honey can add its signature flavour to glazed duck breasts, a warm goats' cheese salad and a fabulous fig dessert.
Then its time for Michelin starred chef and Great British Menu favourite Glynn Purnell to ride to the rescue of British cheese. Cheap foreign imports, misleading labelling and a lack of public knowledge of the sheer variety of British cheeses available mean Glynn has his work cut out for him. But on his journey of discovery he meets some truly passionate cheese makers, samples some great tasting cheeses and shows off his own restaurant quality dishes.
Credits
| Role | Contributor |
| --- | --- |
| Series Producer | Philip J Smith |
| Executive Producer | Bridget Boseley |
| Participant | Ainsley Harriott |
| Participant | Glynn Purnell |