Main content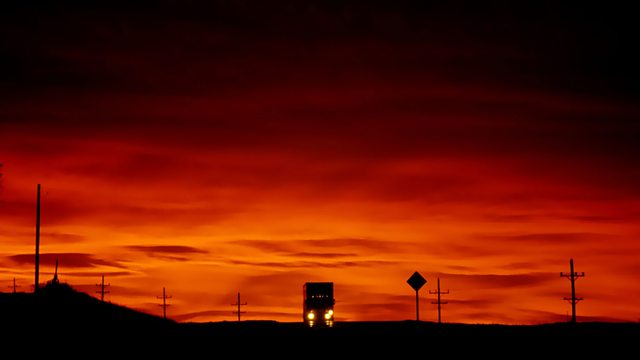 08/04/2011
Susan Sharpe's selection includes Schubert's Octet in F for strings, clarinet, bassoon and French horn.
Susan Sharpe presents Schubert's Octet, for strings, clarinet, bassoon and French horn.
1:01 AM
Schubert, Franz (1797-1828)
Octet (D.803) in F major
Tor Johan Bøen (violin), Karolina Radziej (violin), Mari Giske (viola), Gunnar Hauge (cello), Ingvild Pettersen (double bass), Toni Salar-Verdu (clarinet) Trond Olav Larsen (bassoon) Frødis Ree Wekre (french horn)
2:03 AM
Prokofiev, Sergey (1891-1953)
Symphony No.7 in C sharp minor (Op.131)
Orchestre Métropolitain, Agnes Grossmann (conductor)
2:34 AM
Górecki, Henryk Mikolaj (b. 1933)
Salve Sidus Polonorum - Cantata in honour of St Wojciech (Adalbertus) (Op.72)
Warsaw Philharmonic Choir , Percussion Ensemble of the National Philharmonic Orchestra, National Polish Radio Symphony Orchestra, Wojciech Michniewski (conductor)
3:01 AM
Veress, Sandor (1907-1992)
Four Transylvanian Dances for String Orchestra
Berne Symphony Orchestra, Dmitri Kitaenjko (conductor)
3:17 AM
Grieg, Edvard (1843-1907)
Symphonic Dances (Op.64)
Slovak Radio Symphony Orchestra, Bratislava, Ondrej Lenard (conductor)
3:44 AM
Vivaldi, Antonio (1678-1741)
Dixit Dominus for SSATB soloists and double choir and orchestra in D major (RV.595)
Unidentified soloists, Choir of Latvian Radio and the Riga Chamber Players, Sigvards Klava (conductor)
4:14 AM
Golestan, Stan (1875-1956)
Arioso and Allegro de concert
Gyözö Máté (viola), Balázs Szokolay (piano)
4:23 AM
Rautavaara, Einojuhani (b. 1928)
Lorca Suite
Finnish Radio Chamber Choir, Eric-Olaf Söderström (conductor)
4:29 AM
Fauré, Gabriel (1845-1924)
Dolly - Suite for piano duet (Op.56)
Erzsébet Tusa, Istvan Lantos (pianos)
4:43 AM
Lotti, Antonio (1666-1740)
Sonata in F major 'Echo-Sonate' for 2 oboes, bassoon and continuo
Ensemble Zefiro
4:53 AM
Elsner, Józef Antoni Franciszek [Joseph Anton Franciskus, Józef Ksawery, Joseph Xaver] (1769-1854)
Overture to the opera-duodrama "The echo in the Wood"
Polish Radio Symphony Orchestra, Andrzej Straszynski (conductor)
5:01 AM
Philips, Peter (1561-1628)
Amarilli mia bella, after Caccini
Vital Julian Frey (harpischord)
5:05 AM
Brahms, Johannes (1833-1897)
Gestillte Sehnsucht (Op.91 No.1)
Judita Leitaite (mezzo-soprano), Arunas Statkus (viola), Andrius Vasiliauskas (piano)
5:12 AM
Kuula, Toivo (1883-1918)
Festive March (Op.13)
Finnish Radio Symphony Orchestra, George de Godzinsky (conductor)
5:21 AM
Hildegard von Bingen (1098-1179)
O vis aeternitatis (Responsorium) - for voice, female chorus, 2 fiddles, organistrum
Sequentia
5:30 AM
Corelli, Arcangelo (1653-1713)
Concerto grosso (Op.6 No.8) in G minor 'per la notte di Natale' ('Christmas night')
Bergen Philharmonic Orchestra, Roy Goodman (conductor)
5:45 AM
Sibelius, Jean (1865-1957)
Suite Champêtre (Op.98b) (Pièce charactéristique ; Mélodie élégiaque ; Danse )
Danish Radio Concert Orchestra, Hannu Koivula (conductor)
5:53 AM
Strauss, Richard (1864-1949)
Concerto for horn and orchestra No.1 in E flat major, Op.11
Ferenc Tarjáni (horn), Hungarian Radio Orchestra, Antal Jancsovics (conductor)
6:10 AM
Horovitz, Joseph (b. 1926)
Music Hall Suite
The Slovene Brass Quintet
6:21 AM
Mozart, Wolfgang Amadeus (1756-1791)
Concerto for flute and orchestra in D major (K.314)
Robert Aitken (flute), National Arts Centre Orchestra, Franco Mannino (conductor)
6:42 AM
Albéniz, Isaac (1860-1909)
Rapsodia española
Angela Cheng (piano), Calgary Philharmonic Orchestra, Hans Graf (conductor).