Main content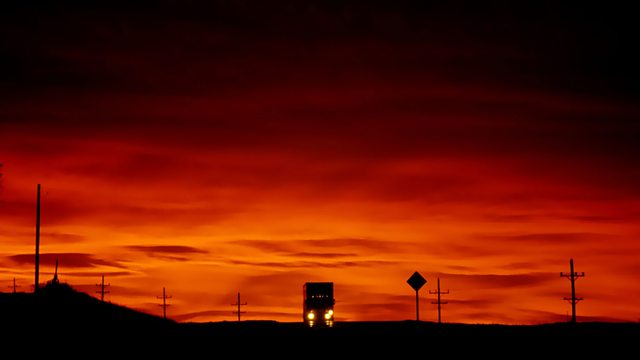 03/04/2011
Susan Sharpe's selection includes the Freiburg Baroque Orchestra performing a 'baroque eccentrics' programme.
Susan Sharpe's selection includes The Freiburg Baroque Orchestra performing a "Baroque Eccentrics" programme
1:01 AM
Rebel, Jean-Féry [c.1666-1747]
Les Elémens - simphonie nouvelle ballet suite
Freiburg Baroque Orchestra, Gottfried von der Goltz
1:26 AM
Zelenka, Jan Dismas [1679-1745]
Capriccio no. 3 in F major (ZWV. 184)
Freiburg Baroque Orchestra, Gottfried von der Goltz
1:41 AM
Telemann, Georg Philipp [1681-1767]
Concerto for recorder, bassoon and strings in F major TWV 52:F1
Isabel Lehmann (recorder) Javier Zafra (bassoon) Freiburg Baroque Orchestra, Gottfried von der Goltz
1:59 AM
Bach, Carl Philipp Emanuel [1714-1788]
Symphony (Wq.183'1) in D major
Freiburg Baroque Orchestra, Gottfried von der Goltz
2:10 AM
Schumann, Robert (1810-1856)
Piano Quartet in E flat major (Op.47)
Alexander Melnikov (piano), Leopold String Trio
2:37 AM
Ravel, Maurice (1875-1937)
Piano Concerto in G major
Alwin Bär (piano), Netherlands Radio Symphony Orchestra, Bernhard Klee (conductor)
3:01 AM
Berg, Alban (1885-1935) arranged for orchestra by Verbey, Theo (b.1959)
Piano Sonata (Op.1) (1907/8)
Royal Concertgebouw Orchestra, Riccardo Chailly (conductor)
3:14 AM
Vieuxtemps, Henri (1820-1881)
Cello Concerto No.1 in A minor (Op.46)
Jan-Erik Gustafsson (cello), Swedish Radio Symphony Orchestra, Paavo Berglund (conductor)
3:43 AM
Reicha, Antonin (1770-1836)
Symphony 'a grande orchestre' in E flat major, (Op.41) 'First symphony'
Capella Coloniensis, Hans-Martin Linde (director)
4:09 AM
Messiaen, Olivier (1908-1992)
Theme and Variations
Peter Oundjian (violin), William Tritt (piano)
4:18 AM
Vaughan Williams, Ralph (1872-1958)
Serenade to music for 16 soloists (or 4 soloists & chorus) & orchestra
Bette Cosar (soprano), Delia Wallis (mezzo-soprano), Edd Wright (tenor), Gary Dahl (bass), Alexander Skwortsow (violin), Vancouver Bach Choir, Vancouver Symphony Orchestra, Bruce Pullan (conductor)
4:32 AM
Alkan, Charles-Valentin (1813-1888)
Le Festin d'Esope (Op.39 no.12 in E minor, from '12 studies' Op.39) (1857)
Johan Ullén (piano)
4:42 AM
Mozart, Wolfgang Amadeus (1756-1791)
Rondo (Concert rondo) for horn and orchestra in E flat major (K.371) completed by Zoltán Kocsis.
László Gál (horn), Hungarian National Philharmonic Orchestra, Zoltán Kocsis (conductor)
4:49 AM
Handel, Georg Frideric (1685-1759)
Il Pastor Fido, ballet music
English Baroque Solists, John Eliot Gardiner (conductor)
5:01 AM
Debussy, Claude (1862-1918) orch. Brewaeys, Luc (b.1959)
No.12 Feux d'artifice (Fireworks) from Preludes Book II
Royal Flemish Philharmonic, Daniele Callegari (conductor)
5:06 AM
Rossini, Gioachino (1792-1868)
Ecco ridente in cielo - from 'Il Barbiere di Siviglia' Act 1 Sc 1
Mark Dubois (tenor), Kitchener Waterloo Symphony Orchestra, Raffi Armenian (conductor)
5:12 AM
Spohr, Louis (1784-1859)
Fantasy, Theme and Variations a theme of Danzi in B flat (Op.81)
László Horvath (clarinet), New Budapest String Quartet
5:20 AM
Tchaikovsky, Pyotr Il'yich (1840-1893), arr. Nicolai Hausen
Chants sans paroles (orig. for piano solo, Op.2 No.3)
Moshe Hammer (violin), Tsuyoshi Tsutsumi (cello), William Tritt (piano)
5:23 AM
Benoit, Peter (1834-1901)
Overture to Charlotte Corday (1876)
Vlaams Radio Orkest , Jan Latham-Koenig (conductor)
5:34 AM
Matteis, Nicola (d.c.1707) & Anon (17th century)
"Matteis: Passages in Imitation of the Trumpet (Ayres & Pieces IV (1685))
Anon: 5 Marches from John Playford's new tunes "
Pedro Memelsdorff (recorder), Andreas Staier (harpsichord)
5:44 AM
Klami, Uuno (1900-1961)
Introduction e staccato etude
Jouko Harjanne (trumpet), Finnish Radio Symphony Orchestra, Sakari Oramo (conductor)
5:49 AM
Piazzolla, Ástor Pantaleón (1921-1992)
Las cuatro estaciones portenas (The Four Seasons of Buenos Aires): Otoño Porteño (Buenos Aires Autumn)
Musica Camerata Montréal
6:12 AM
Vivaldi, Antonio (1678-1741)
Concerto for violin & orchestra (RV.293) (Op.8 No.3) in F major 'L'Autunno'
Elizabeth Wallfisch (baroque violin), Australian Brandenburg Orchestra, Paul Dyer (director)
6:23 AM
Brahms, Johannes (1833-1897)
Marienlieder (Op.22)
Danish National Radio Choir, Stefan Parkman (conductor)
6:41 AM
Haydn, Joseph (1732-1809)
Quartet for strings in D major (Op.64 No.5) 'Lark'
Tilev String Quartet.