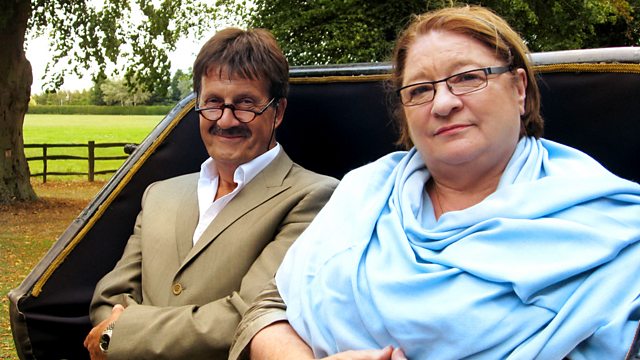 Chef Rosemary Shrager and antiques expert Tim Wonnacott visit Stoneleigh Abbey in Warwickshire revealing just what happened when Queen Victoria visited the Leigh family in 1858. Victoria was 39 years old and had been queen for 21 years. She was with Albert but without any of her nine children. The royal train took her from London to Coventry, then she travelled on to Stoneleigh by horse and carriage for this three-day visit.
A extraordinary journal, kept by the sister of the host, provides a detailed and funny insight into the visit, which included a huge banquet. Tim tells how the family coped when they realised they didn't have a dining room that was big enough and, from Victoria's own diary, the queen's reaction to the room that was used. The Leigh family archive reveals that palace officials were sent ahead to make sure everything was done just as HRH stipulated, in particular in her bedroom, where the Leighs had to make some rather hasty alterations to the bed frame. We also discover that the queen travelled with her own upholsterer. The family journal records: 'The upholsterer's duty was to pack and unpack the Queen's boxes, he also superintended the making and arrangements of the Queen's bed. She had sheets and blankets of her own with her and the upholsterer had to sew them together in a peculiar way according to royal fancy'.
Chef and food historian Ivan Day joins Rosemary below stairs. Using original documents that record incredible details of the royal visit, including the shopping list for food and the menu for the 39 dishes that were provided, they recreate a rich chocolate pudding that was served to the queen. It has two special ingredients: hand-made chocolate and a setting agent called isinglass, made from dried sturgeon bladders.
Last on
Credits
| Role | Contributor |
| --- | --- |
| Presenter | Tim Wonnacott |
| Presenter | Tim Wonnacott |
| Presenter | Rosemary Shrager |
| Participant | Ivan Day |
| Producer | Owen Rodd |
| Director | Owen Rodd |
| Producer | Owen Rodd |
| Director | Owen Rodd |
| Producer | Jules Whomsley |
| Director | Jules Whomsley |