Main content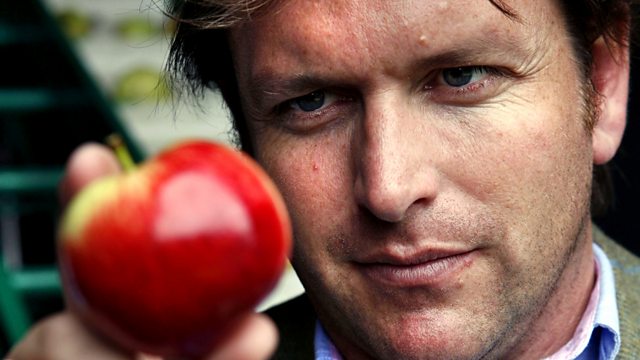 James Martin on Apple and Matt Tebbutt on Mutton
Series in which well-known chefs popularise traditional British produce. James Martin takes on the challenge of reviving the British apple and Matt Tebbutt campaigns for mutton.
Some of our best Great British produce is under threat and this exciting series is a call to action as ten of the BBC's best-loved chefs and cooks help to bring our traditional produce back from the brink. We've got the rarest, tastiest and most culturally important ingredients right here under our noses, but they are in danger of being lost forever if we don't rally behind them.
Each episode of The Great British Food Revival takes two passionate presenters on a gastronomic journey to discover, cook with and reinvigorate our great heritage foods. Each show is a campaign by the hosts to raise awareness, get people cooking with, talking about and enjoying these great British ingredients.
In this third episode of the series, chef and proud Yorkshireman James Martin takes on the challenge of reviving the British apple. Forced off the supermarket shelves by identikit fruit that have been shipped in from as far away as New Zealand and Chile, James is determined to show off the qualities of our native varieties. He discovers that we can all play our part in the revival by checking if that tree at the bottom of the garden is one of several hundred varieties thought to be extinct, and by showing us three delicious recipes that highlight the variation in flavour of this under-appreciated fruit.
Leading the charge on behalf of mutton is chef Matt Tebbutt. Knocked for six by cheap imports of lamb, mutton has lost its place as a family staple. But Matt is determined to win back its reputation and discovers that the cause is being taken up from the mountains of Wales to the markets of London. He also demonstrates how tasty and versatile this meat can be by cooking a melt in the mouth stuffed shoulder and a spicy North African inspired tagine.
Credits
| Role | Contributor |
| --- | --- |
| Series Producer | Philip J Smith |
| Executive Producer | Bridget Boseley |
| Participant | James Martin |
| Participant | Matt Tebbutt |