Main content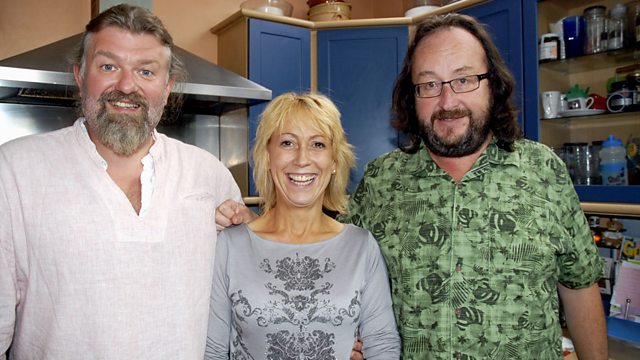 Series celebrating home cooking. In Wales, the Bikers meet three Mums who share their posh recipes: a Maltese stuffed marrow dish, cheesecake and orchid gateau.
In this rather up-market episode, the Bikers head to Wales for some posh nosh. They discover Welsh cuisine is far more sophisticated than leeks and laver bread as they meet three Mums, each with their own take on what makes food fancy. For Avis Davies, it's a Maltese stuffed marrow dish; Derith Rhisiart takes the humble Welsh cake as the basis for her very posh cheesecake, and for Jewish mum Ruth Joseph no posh table is complete without her special orchid gateaux, made in the tin her mother brought to Britain when fleeing Nazi Germany as a child.
The Bikers aren't too shabby either though. In a formal garden setting, they rustle up some double-baked cheese souffles before a quick game of polo on the lawn; and a stately home provides the location for their posh alter egos Archie and Gerald to enjoy some Biker-cooked lamb cutlets en croute with a red wine gravy.
With the Mums on board and their posh family recipes tried and tested, the Bikers head to the recipe fair where foodies from over the country have brought their family's bestest, most poshest recipes. Gerard, the food historian, is on hand to shed some light on where our posh nosh originated and also to devour the many, many cakes and other delicious morsels on hand. At the end of the day, the banquet is a feast of the ultimate poshness.
Credits
| Role | Contributor |
| --- | --- |
| Presenter | Dave Myers |
| Presenter | Dave Myers |
| Presenter | Si King |
| Presenter | Si King |
| Producer | Joanna Brame |
| Producer | Joanna Brame |
| Director | Joanna Brame |
| Director | Joanna Brame |
| Series Producer | Oliver Clark |
| Series Producer | Oliver Clark |
| Executive Producer | Gill Tierney |
| Executive Producer | Gill Tierney |