Main content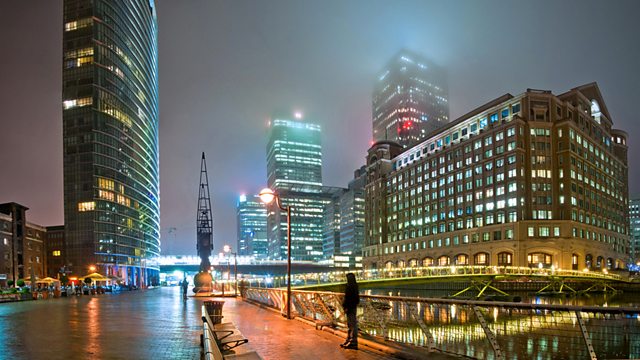 Leverage
In Simon Passmore's thriller, a city banker is found dead and his former girlfriend sets out to uncover a conspiracy. Starring Claire Foy, Blake Ritson and Charlie Cox.
By Simon Passmore.
A city banker is found dead in an opulent apartment. At the funeral, his former girlfriend Helen is unexpectedly questioned about when she last saw him. Did he mention computer files, or give her anything as a keepsake? Helen's suspicions mount as she retraces his last movements. Her discoveries put her in the firing line. A fast-paced, psychological thriller.
Cast:
Helen . . . . . Claire Foy
David . . . . . Blake Ritson
Mark . . . . . Charlie Cox
Kendra . . . . . Sally Orrock
Clare . . . . . Joanna Monro
Jamie . . . . . Nyasha Hatendi
Ray . . . . . Sean Baker
Directed by Sasha Yevtushenko
A taut, character-driven conspiracy thriller by one of radio's leading writers of thrillers. Like the television hit State of Play, Simon Passmore has created an intelligent plot for grown-ups: writhing with twists and heavy on menace. This will be compelling Saturday afternoon entertainment.
David and Helen, a professional couple in their mid-twenties, are shocked when Jamie, an old friend from university, dies unexpectedly. At the funeral, they meet Mark, another mutual friend. Mark implies that he works for Special Services, and tells them that Jamie, a high-flying investment banker, may have killed himself - and that his bank has been under investigation. Did Jamie contact the couple before he died? As Mark teases out information, Helen begins to suspect he is not entirely innocent. Mark's questions turn into threats, and people start getting hurt. David and Helen find they must expose a murder before it's too late.
The lead roles are played by three top young British actors.
Claire Foy is Helen. Claire's recent TV credits include lead roles in The Promise (Channel 4) and Little Dorrit (BBC).
Charlie Cox is Mark. Charlie's credits include lead roles in the films Stardust, Moby Dick and The Merchant of Venice, and TV roles include the Duke of Crowborough in Downton Abbey.
Blake Ritson plays David. Blake's recently starred in Roger Michell's production of Rope at the Almeida; on TV in Emma (BBC), Upstairs Downstairs (BBC), and Romantics (Company Pictures). He has been playing the lead in Radio 4's four-week serial The Far Pavilions (Feb 2011).
Writer Simon Passmore has had a string of recent successes on radio with Accomplices, Offshore and Going To Ground. As a TV drama producer, he has a track-record of making top quality TV drama for the BBC and Channel 4.