Main content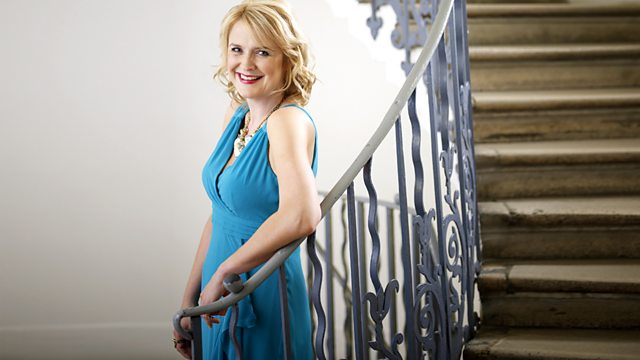 Friday - Sarah Walker
With Sarah Walker. Torelli: Concerto in D for two trumpets. Briccialdi: Il carnevale de Venezia. Hummel: Trumpet Concerto in E flat. Brahms: Violin Sonata No 1.
Classical Collection with Sarah Walker. This week - music for the trumpet and recordings by the violinist Kyung-Wha Chung. Our Friday virtuoso is flautist Sharon Bezaly playing Il Carnevale de Venezia by Briccialdi. There's also a recording of Kyung-Wha Chung playing Brahms's Violin Sonata No 1, Shostakovich's Piano Concerto No 1 featuring soloist Martha Argerich, and we've two pieces by Handel which showcase the trumpet.
10.00
Torelli
Concerto for Two Trumpets in D
David Staff and Mark Bennett (trumpets)
St James's Baroque Players
Ivor Bolton (conductor)
TELDEC 4509911922
10.08
FRIDAY VIRTUOSO
Briccialdi
Il Carnevale de Venezia for flute and piano, Op.78
Sharon Bezaly (flute)
Ervin Nagy (piano)
BIS CD1039
10.16
Hummel
Trumpet Concerto in E flat major
Hakan Hardenberger (trumpet)
The Academy of Saint Martin in the Fields
Neville Marriner (conductor)
PHILIPS 4202032
10.35
Brahms
Violin Sonata No.1
Kyung-Wha Chung (violin)
Peter Frankl (piano)
EMI CDC5562032
11.04
Handel
Solemn March - Glory to God (Joshua)
John Mark Ainsley (tenor)
King's Consort
Robert King (conductor)
HYPERION CDA 66461/2
11.14
Sibelius
The Tempest - Suite No.2
Helsinki Philharmonic Orchestra
Leif Segerstam (conductor)
ONDINE ODE 9142
11.31
Shostakovich
Piano Concerto No.1
Martha Argerich (piano)
Sergei Nakariakov (trumpet)
Orchestra della Svizzera Italiana
Alexander Vedernikov (conductor)
EMI 5045042
11.54
Handel
Eternal Source of Light Divine (Ode for the Birthday of Queen Anne, HWV74)
Robin Blaze (countertenor)
Academy of Ancient Music
Stephen Cleobury (conductor) EMI 5571402.