Main content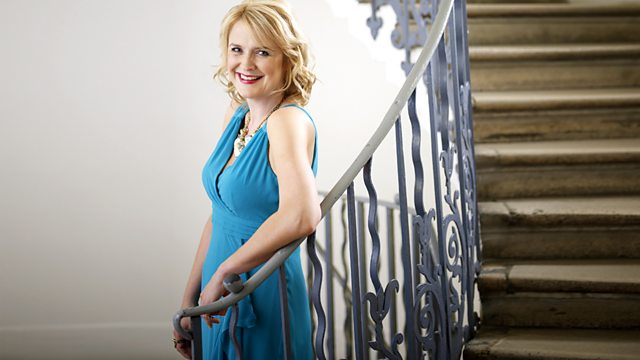 Wednesday - Sarah Walker
With Sarah Walker. Beethoven: Leonore Overture No 3. Schumann: Arabesque in C. Haydn: Trumpet Concerto in E flat. Respighi: Violin Sonata in B minor. Plus Landi, Brahms and Biber.
Classical Collection with Sarah Walker. This week - music for the trumpet and recordings by Kyung-Wha Chung. Our Wednesday Award Winner is a recording of Respighi's Violin Sonata in B minor performed by our Artist of the Week Kyung-Wha Chung. Other highlights include a recording of Haydn's Trumpet Concerto in E flat performed by Wynton Marsalis and Brahms's Variations on a theme by Haydn conducted by Ivan Fischer.
10.00
Beethoven
Leonore No.3
Leipzig Gewandhausorchester
Kurt Masur (conductor)
PHILIPS 4387062
10.15
Schumann
Arabesque in C Op.18
Maria Joao Pires (piano)
DG 4375382
10.23
Haydn
Trumpet Concerto in E flat
Wynton Marsalis (trumpet)
National Philharmonic Orchestra
Raymond Leppard (conductor)
SONY CLASSICAL SMK 89611
10.38
WEDNESDAY AWARD WINNER
Respighi
Violin Sonata in B minor
Kyung-Wha Chung (violin)
Krystian Zimerman (piano)
DG 4276172
11.03
Landi
Homo Fugit Velut Umbra (Passacaglia Della Vita)
L'Arpeggiata
Christina Pluhar (director)
ALPHA 020
11.08
Brahms
Variations on a theme by Haydn, Op.56a
Budapest Festival Orchestra
Ivan Fischer (conductor)
CHANNEL CLASSICS CCSSA28309
11.27
Rachmaninov
Trio Elegiaque Op.50
Gould Piano Trio
CHAMPS HILL RECORDS CHRCD012
11.42
Biber
Missa Salisburgensis - Credo
Gabrieli Consort and Players
Musica Antiqua Koln
Paul McCreesh and Reinhard Goebel (conductors)
ARCHIV 4576112.