Main content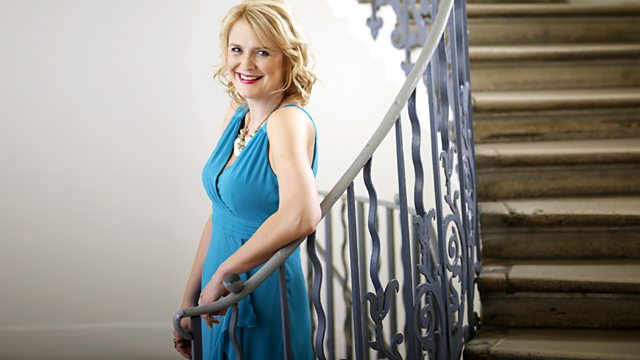 Monday - Sarah Walker
With Sarah Walker. Charpentier: Fanfare (Te Deum). Liszt: Hungarian Rhapsody No 5. Enescu: Legend. Faure: Les Djinns. Debussy: Violin Sonata in G. Bach: Magnificat in D, BWV243.
Classical Collection with Sarah Walker. This week - the trumpet and recordings by the violinist Kyung-Wha Chung Today's highlights include Albinoni's Concerto after Sonata da Chiesa in D minor featuring trumpeter Alison Balsom, Bach's Magnificat in D and Debussy's Violin Sonata in G performed by Kyung-Wha Chung.
10:00
Charpentier
Te Deum - Fanfare
Ole Edvard Antonsen (trumpet)
Wayne Marshall (organ)
EMI 585462
10.03
Liszt
Hungarian Rhapsody No.5 in E minor
Israel Philharmonic Orchestra
Zubin Mehta (conductor)
SONY MK44926
10:14
Enescu
Legend
Hakan Hardenberger (trumpet)
Roland Pontinen (piano)
PHILIPS 4261442
10:20
Faure
Les Djinns Op.12
Ensemble Vocal Alix Bourbon
Orchestre Du Capitole De Toulouse
Michel Plasson (conductor)
EMI CDC 7479392
10:24
Albinoni
Concerto after Sonata da Chiesa in D minor
Alison Balsom (trumpet)
Scottish Ensemble
EMI 4560942
10:33
Debussy
Violin Sonata in G
Kyung-Wha Chung (violin)
Radu Lupu (piano)
DECCA 4211542
10:47
Bach
Magnificat in D BWV243
Greta de Reyghere (soprano)
Rene Jacobs (alto)
Christoph Pregardien (tenor)
Peter Lika (bass)
Netherlands Chamber Choir
La Petite Bande
Sigiswald Kuijken (conductor)
VIRGIN VC 7907792
11.20
Mendelssohn
Fugues in E flat and C sharp minor
Roberto Prosseda (piano)
DECCA 4765277
11.34
Mahler
Symphony No.10 - Finale
Berlin Philharmonic Orchestra
Simon Rattle (conductor)
EMI 5569722
The Building a Library Choice as recommended in last Saturday's CD Review.