Main content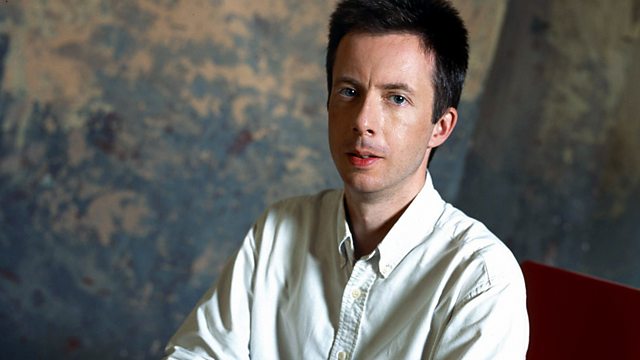 20/03/2011
John Shea presents a concert given by Trio Poseidon, featuring music by Andree, Ravel and Dohnanyi.
John Shea presents a concert by Trio Poseidon. Includes Andree, Ravel and Dohnanyi.
1:01 AM
Andrée, Elfrida (1841-1929)
Piano Quartet in A minor (1865)
Sara Trobäck Hesselink (violin), Joel Hunter (viola) Jakob Koranyi (cello), Per Lundberg (piano)
1:24 AM
Ravel, Maurice (1875-1937)
Trio for piano and strings in A minor
Trio Poseidon
1:50 AM
Nystroem, Goesta (1890-1966)
3 Visions about the sea
Swedish Radio Choir, Gustaf Sjökvist (conductor)
2:02 AM
Dohnanyi, Erno (1877-1960)
Sextet for clarinet, horn, violin, viola, cello & piano (Op.37) in C major
Trio Poseidon
2:33 AM
Telemann, Georg Philipp (1681-1767)
Suite for strings and continuo (TWV.55:Es3) in E flat major 'La Lyra'
B'Rock
2:53 AM
Gershwin, George (1898-1937)
Three Preludes arr. for two pianos
Aglika Genova & Luben Dimitrov (pianos)
3:01 AM
Vaughan Williams, Ralph (1872-1958)
A London Symphony (Symphony no.2)
BBC Symphony Orchestra, Leonard Slatkin (conductor)
3:46 AM
Wert, Giacches de (1535-1596)
Qual musico gentil 5 à Cappella Singers at the Sonesta Koepelzaa, Amsterdam
3:56 AM
Mozart, Wolfgang Amadeus (1756-1791)
Fantasy in D minor (KV.397)
Bruno Lukk (piano)
4:03 AM
Vivaldi, Antonio (1678-1741)
Concerto in C major, RV.444 for recorder, strings & continuo
Il Giardino Armonico
4:13 AM
Dvorák, Antonín (1841-1904)
Slavonic Dance No.10 in E minor (Op.72 No.2)
BBC Concert Orchestra, Barry Wordsworth (conductor)
4:18 AM
Pezel, Johann Christoph (1639-1694)
Four Intradas
Hungarian Brass Ensemble
4:25 AM
Schubert, Franz (1797-1828)
Sehnsucht (D.123) (Longing)
Christoph Prégardien (tenor), Andreas Staier (fortepiano)
4:29 AM
Poulenc, Francis (1899-1963) (orch. Sir Lennox Berkeley)
Flute Sonata (1956)
Emmanuel Pahud (flute), Orchestre de la Suisse Romande, Enrique Garcia-Asensio (conductor)
4:43 AM
Rore, Cipriano de (c1515-1565)
O voi che sotto l'amorose insegne'
The Consort of Musicke, Anthony Rooley (director)
4:48 AM
Beethoven, Ludwig van (1770-1827)
32 Piano Variations in C minor (Wo0.80)
Antii Siirala (piano)
5:01 AM
Debussy, Claude [1862-1918]
Premiere rapsodie arranged for clarinet and orchestra
Sabine Meyer (clarinet) BBC Symphony Orchestra, Jiří Bělohlávek (conductor)
5:09 AM
Scarlatti, Domenico (1685-1757)
Sonata in C major (K.460)
Andreas Staier (harpsichord)
5:16 AM
Lindberg, Oskar (1887-1955)
Morgonen
Swedish Radio Choir (women's voices only), Eric Ericson Chamber Choir, Maria Wieslander (piano), Gustav Sjökvist (conductor)
5:20 AM
Wolf, Hugo (1860-1903)
Intermezzo for string quartet in E flat major (1886)
Ljubljana String Quartet
5:31 AM
Mozart, Wolfgang Amadeus (1756-1791)
Symphony No.16 in C major (K.128)
The Amadeus Polish Radio Chamber Orchestra in Poznan, Agnieszka Duczmal (conductor)
5:44 AM
Liszt, Franz (1811-1886)
Hungarian Rhapsody No.12 in C sharp minor
Rian de Waal (piano)
5:54 AM
Bach, Johann Sebastian (1685-1750)
Orchestral Suite No.1 in C major, BWV1066
Norwegian Chamber Orchestra
6:14 AM
Donizetti, Gaetano (1797-1848)
Sinfonia for wind instruments in G minor
Bratislavska Komorna Harmonia
6:21 AM
Beethoven, Ludwig van (1770-1827)
Violin Sonata in F major (Op.24) 'Spring'
Salvatore Accardo (violin), Michele Campanella (piano)
6:45 AM
Alfvén, Hugo (1872-1960)
Midsummer vigil - Swedish rhapsody no.1 (Op.19)
Danish National Radio Symphony Orchestra, Michael Schønwandt (conductor).