Main content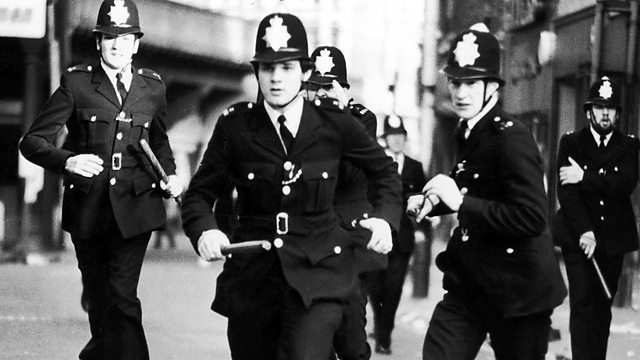 Brixton Riots
Sue MacGregor speaks to five people who were at the centre of events when rioting erupted in Brixton, South London, in April 1981.
In this edition of The Reunion, Sue MacGregor reunites five people who lived through the dramatic events which stunned the nation when simmering tensions erupted into an all out battle between police and youths in Brixton in April 1981.
On Saturday the 11th of April 1981 Brixton was set ablaze as hundreds of local youths fought the Metropolitan Police in running street battles. The police came under a hail of bricks and bottles, and petrol bombs were thrown at them for the first time on mainland Britain. Ill equipped and lacking in training at one point they struggled even to defend the police station on Brixton Road.
What was shocking to many people was the unexpectedness of events. But below the surface tensions had been building. Many young black men believed officers discriminated against them, particularly by use of the 'sus' law under which anybody could be stopped and searched if officers merely suspected they might be planning to carry out a crime.
In early April, Operation Swamp - an attempt to cut street crime in Brixton which used the sus law to stop more than 1,000 people in six days - heightened tensions.
Whilst the press called it "the Brixton riots", giving the impression that it was the work of a hysterical mob. Linton Kwesi Johnson redefined the moment as "di great insohreckshan". "It is noh mistri/we mekkin histri," he wrote.
Joining Sue around the table is: novelist Alex Wheatle ; Ted Knight, then the leader of Lambeth Borough Council; journalist and broadcaster Darcus Howe and former policemen Brian Paddick and Peter Bleksley.
Producer: Emily Williams and David Prest
A Whistledown production for BBC Radio 4.
Last on