Main content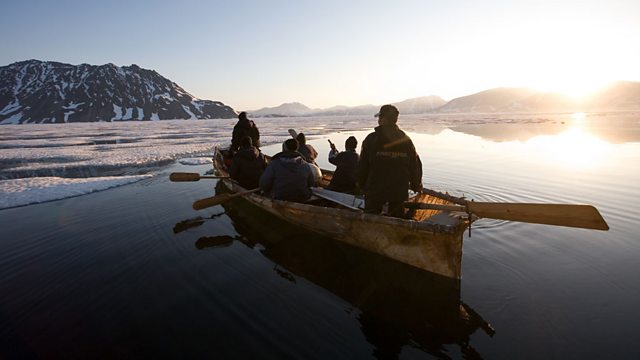 Documentary series revealing the riches and wonders of polar regions. Today, their survival relies on a combination of ancient wisdom and cutting-edge science.
The documentary series reveals the extraordinary riches and wonders of the polar regions that have kept people visiting them for thousands of years. Today, their survival relies on a combination of ancient wisdom and cutting-edge science.
Most Arctic people live in Siberia, either in cities like Norilsk - the coldest city on earth - or out on the tundra, where tribes like the Dogan survive by herding reindeer, using them to drag their homes behind them. On the coast, traditional people still hunt walrus from open boats - it is dangerous work, but one big walrus will feed a family for weeks. Settlers are drawn to the Arctic by its abundant minerals: the Danish Armed Forces maintain their claim to Greenland's mineral wealth with an epic dog-sled patrol, covering 2,000 miles through the winter. Above, the spectacular northern lights can disrupt power supplies so scientists monitor it constantly, firing rockets into it to release a cloud of glowing smoke 100 kilometres high.
In contrast, Antarctica is so remote and cold that it was only a century ago that the first people explored the continent. Captain Scott's hut still stands as a memorial to these men. Science is now the only significant human activity allowed - robot submarines are sent deep beneath the ice in search of new life forms, which may also be found in a labyrinth of ice caves high up on an active volcano. Above, colossal balloons are launched into the purest air on earth to detect cosmic rays.
At the South Pole there is a research base designed to withstand the world's most extreme winters. Cut off from the outside world for six months, the base is totally self-sufficient, even boasting a greenhouse.
Credits
| Role | Contributor |
| --- | --- |
| Producer | Dan Rees |
| Executive Producer | Alastair Fothergill |
| Narrator | David Attenborough |
| Composer | George Fenton |
Broadcasts

Featured in...
The ultimate portrait of the Polar regions - the last great wildernesses on the planet.