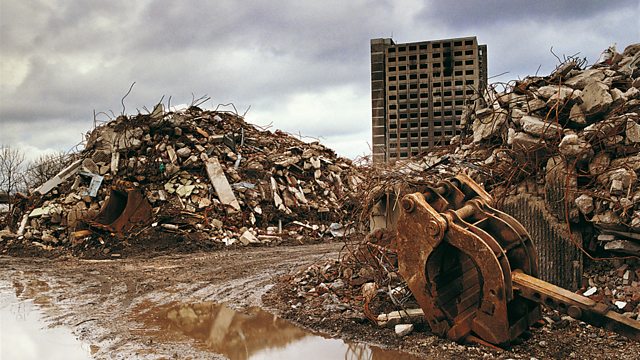 Poets Paul Farley and Michael Symmons Roberts explore a wilderness that is much closer than you think: those debatable zones that are neither town nor countryside. These two lyric poets celebrate the strange beauty of these places that we all journey through, but generally fail to acknowledge.
Recorded entirely on location in the English edgelands, this Book of the Week journeys through the post-industrial landscapes of ruined warehouses, landfill sites, sewage works and power stations.
Today, retail parks and edgeland hotels.
Read by Paul Farley and Michael Symmons Roberts
Produced by Emma Harding
Edgelands is published by Jonathan Cape (27th February 2011). It won a Royal Society of Literature Jerwood Award for non-fiction in 2009.
Paul Farley is the author of four collections of poetry - including 'Ice Age' - and has received the Forward Prize for Best First Collection, the Whitbread Poetry Award and the E.M. Forster Award from the American Academy of Arts and Letters.
Michael Symmons Roberts has published five collections of poetry - including 'Corpus', which won the Whitbread Poetry Award - and two novels. He is a frequent collaborator with the composer James MacMillan and their opera, 'The Sacrifice' won the RPS Award.
Last on