Main content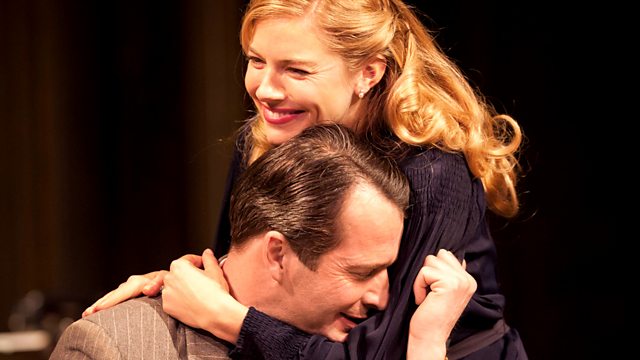 Sienna Miller and Sheridan Smith in Flare Path; Emma Donoghue on Room
Mark Lawson reviews Sienna Miller, James Purefoy and Sheridan Smith in a new staging of Terence Rattigan's play Flare Path; and the latest films from Woody Allen and Ken Loach.
Sienna Miller, Sheridan Smith and James Purefoy star in a West End production of Terence Rattigan's Flare Path, directed by Trevor Nunn. The drama was first staged in 1942 and depicts a love triangle between an RAF pilot, his actress wife and a famous film star. Peter Kemp reviews.
Woody Allen's latest film, You Will Meet a Tall Dark Stranger, is a romcom starring Anthony Hopkins, Gemma Jones and Naomi Watts; Ken Loach's new film, Route Irish, is a thriller about security contractors in Iraq. Critic Gaylene Gould casts a critical eye over both.
Emma Donoghue's novel Room was inspired by the Josef Fritzl case. She explains why she chose to tell the story of a woman who has been kept prisoner for seven years in a 12 foot square room through the voice of the woman's five year old son.
As the English National Ballet prepares to launch Black & White, a collection of performances from a range of popular ballets, we discuss "extract culture" across the arts. Consuming snippets of TV shows, music and literature through new technologies is becoming more prevalent, but is the audience missing out? Sir Nicholas Kenyon, Managing Director of the Barbican, James Cridland a radio futurologist and Jessica Duchen, journalist, novelist and classical music blogger discuss the pros and cons.
Producer Beth Meade.
Chapters
You Will Meet A Tall Dark Stranger and Route Irish

You Will Meet A Tall Dark Stranger and Route Irish

A review of Woody Allen's romcom You Will Meet a Tall Dark Stranger and Ken Loach's new thriller Route Irish.

Duration: 07:00

Emma Donoghue - Room

Emma Donoghue - Room

An interview with the novelist Emma Donoghue on her novel Room.

Duration: 09:02

Flare Path

Flare Path

A review of the Terence Rattigan play Flare Path, starring Sienna Miller, James Purefoy and Sheridan Smith.

Duration: 04:44

Black and White

Black and White

We discuss "extract culture" across the arts - the effect on the audience of watching bits from performances rather than the whole thing.

Duration: 07:08