Main content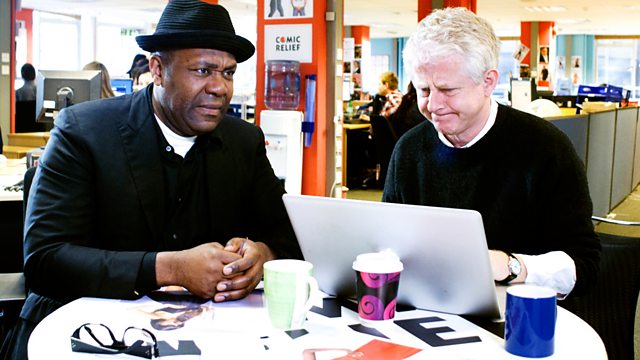 Comic Relief
4 Extra Debut. Sue MacGregor brings together some of the founding members of Comic Relief: Richard Curtis, Lenny Henry, Helen Fielding, Griff Rhys Jones and Paddy Coulter.
In this episode of The Reunion, Sue MacGregor gathers together the founding members of Comic Relief.
The idea first emerged in 1984 when a devastating famine was crippling Ethiopia. Inspired by the work of Live Aid, a group of people led by writer Richard Curtis decided to tap into the great British comedy scene and raise money for Africa. All costs would be covered by sponsors. This would enable the 'Golden Pound' principle - that every penny raised should go to charity.
Comic Relief was launched live on Noel Edmonds' Late, Late Breakfast Show on Christmas Day 1985 from a refugee camp in Sudan. Helen Fielding was the Comic Relief documentary maker leading the project in Africa at the time. The launch raised £1 million. A few months later Comic Relief staged their first live fundraising show at London's Shaftesbury Theatre with performances by Rowan Atkinson, Ronnie Corbett and Kate Bush. That year, they released their first number one hit single with The Young Ones and Cliff Richard.
Comic Relief needed a symbol - something which could be sold in exchange for a donation and which would give the public a way of joining in. On the back of the Red Nose idea came the first ever Red Nose Day TV extravaganza in 1988 - an event which would bring together comedy and charity like never before on live national TV. Richard Curtis recalls 'chaos, panic and tears' behind the scenes. The show raised a staggering £15 million and would go on to become an institution.
Sue is joined around the table by; Richard Curtis co-founder of Comic Relief; Lenny Henry and Griff Rhys Jones who presented the early TV shows; Helen Fielding who was the first Africa documentary producer and Paddy Coulter, who was Head of Media at Oxfam and an early Comic Relief board member.
Producer: Sarah Cuddon
A Whistledown production for BBC Radio 4.