Main content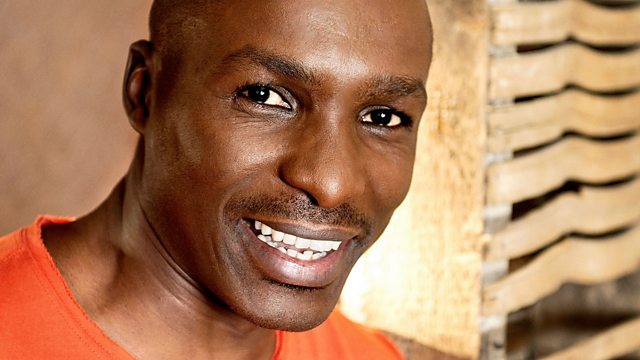 14/03/2011
DJ Edu with the hottest underground sounds out of Africa, from hip hop and RnB to dancehall, garage and D&B.
Music Played
Boddhi Satva

Punch Koko (Central African Republic)

L'vovo Derrango

Robots ft Big Nuz(South Africa)

DJ Clock

Ngomso (Feat. Shisaboy)(South Africa)

Stay J

Shashee Wowo (Ghana)

Mastiksoul & Nicol Ananaz

Mboia (Angola)

D'banj

Endowed (Feat. Snoop Dogg/Don Jazzy) (Nigeria/US)

DJ Arafat

Djessimidjeka (Cote d'Ivoire)

Awadi

Dans Monn Reve (Senegal)

Chris Deshield

I Want Some (Feat 2C)

Yaa Pono

Oh Joe (Feat. Vibz)(Ghana)

Aura

Bienvenue A Poto Poto (Benin)

TID

Sifai ft Lady Jay Dee & AY (Tanzania)

Corneille

Le Parasite (Rwanda)

Wyre

She Say Dat ft Cecile (Kenya/Jamaican)

Emmanuel Jal

We Want Peace (Sudan)

Kilian

Save The Last Dance

Nick Nola

I Love The Way ft Bela & Okai

Winky D

Musorova Bigman (Zimbabwe)

K'Millian

Nibandani Banzako (Zambia)

One8 Vs T.I ft Chris Brown

Hands Across The World Vs Get Back Up

Rockstar4000/Sony/Atlantic.

Mika Mendes

So 1 Momenta (Cape Verde)

CLASSIC

Khaled

El H'mam (Algeria)

DNA MIX

M3nsa Vs Octane

Kelewele Pimpin Vs No Love Inna Dem

Ousmane Vs Rihanna

Little Star Vs What's My Name

PSquare Vs Lloyd

No One Like U Vs Cupid

Naeto C Vs Unknown Vs Piles ft Akon

10 Over 10 Vs Ska Riddim Vs Hypnotized

Storm 360/CDR/Slip N Slide.

M'du & Ganyani Vs Mavado

Wolla Wolla Vs Starbwoy

Zaki Ibrahim Vs Katy B

Home Vs Katy On A Mission

Liquideep Vs Far East Movement

BBM Vs Like A G6

BBB Music/Cherrytree/Interscope.

M3nsa Vs Diddy-Dirty Money Ft Swizz Beatz

Yahiya Mu Vs Ass On The Floor

Instrumensa/Bad Boy/Interscope.

Shakira Vs Chris Brown

Waka Waka Vs Yeah 3x

Dj Malvado Vs Black Eyed Peas

Puto Mekie Vs The Time (Dirty Bit)

Márcia Vs Jeremih/50 Cent - Say You'll Be Mine Vs Down On Me Kaysha Vs Jamie Foxx

Raquel Vs Fall For Your Type

Elizio Vs Wiz Khalifa

Bonita Vs Black & Yellow

Mitch Luv Vs Willow Smith

San Ou Vs Whip My Hair

Elizio Vs Chris Brown

Amor Amor Vs No Bullshit

Kaysha Vs Serani

Plus Fort Vs Study People

Sushiraw/Phase One/Rockstone Media.

Muntu Valdo Vs Loadstar

Ate Aye Vs Blvd

Blick Bassy Vs Chase & Status

Nlal Vs Blind Faith

World Connection/Mercury.

Nikki Vs Tarik "Russian" Johnston

Niwe Wako Milele Vs Beach Front Riddim

Homeboyz/Head Concussion.

Kido Semedo Vs Alaine Vs Chris Martin Vs Cecile

Na Nha Paz Vs Up Vs Paper Loving Vs When Your Gone

KSP Prod/Cr203/ZJ Chrome.

Kidum Vs Dirty Money

Urukundo Vs Loving You No More

Fokn Bois Vs Nicki Minaj/Drake

Coz Ov Moni Vs Moment4Life

Mensa & Kubolor/Young Money/Cash Money.