Main content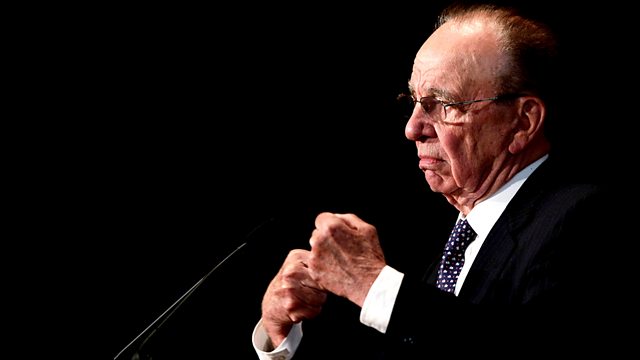 Murdoch at 80
As one of the most powerful men in media turns 80, Steve Hewlett assesses the impact of Rupert Murdoch with contributions from Brenda Dean, Barry Humphries and Kelvin MacKenzie.
There are two impressions of Rupert Murdoch. One: that he is an ruthless businessman with a rapacious personality and only interested in power. The other: that he is the champion of the free market that opened up British media from the stifling grip of unions.
To mark the 80th birthday of the world's most controversial media baron, Steve Hewlett will attempt to get the inside story of the man behind the headlines, by talking to some of his harshest rivals, as well as his closest collaborators.
Amongst those Steve speaks to are former Union leader Brenda Dean, Kelvin MacKenzie who edited Rupert Murdoch's Sun, Roy Greenslade who recalls the battle for Wapping, Asa Briggs who talks about his time at Oxford as Murdoch's tutor, and actor Barry Humphries who paints a fearsome picture of Murdoch's drive.
In 1931, Murdoch was born to a wealthy media family in Melbourne, Australia. As a young man, his Oxford education was cut short with his father's death, upon which he became managing director of Australia's News Limited in 1953. Under his leadership, the company acquired newspaper after newspaper until Murdoch became the dominant force in Australian media.
Murdoch then turned his gaze to Britain with the purchase of The News of the World and the launch of The Sun. In 1981, he gained significant prestige with his purchase of The Times and The Sunday Times, papers that had been unprofitable thanks to increased industrial action. Murdoch, ever the innovative businessman, began electronically automating his newspaper production, which resulted in a confrontation that climaxed at Fortress Wapping in 1986.
Today, his News Corporation has significant media holdings around the globe.
Producer: Colin McNulty
A Whistledown Production for BBC Radio 4.