Main content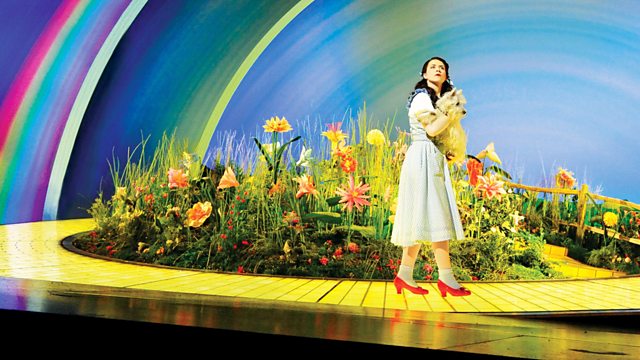 Wizard of Oz reviewed, Edith Grossman, Striggio Mass
Mark Lawson reviews The Wizard of Oz on stage featuring new songs by Andrew Lloyd Webber and Tim Rice, finds out about Striggio's lost 40-part mass and new versions of Moby Dick.
With Mark Lawson.
Andrew Lloyd Webber and Tim Rice have created new songs for the musical production of The Wizard of Oz which features performances from Michael Crawford as the Wizard, Hannah Waddingham as the Wicked Witch of the West and Danielle Hope, making her stage debut as Dorothy, after winning the BBC TV series Over the Rainbow. Matt Wolf - London Theatre Critic of the International Herald Tribune reviews.
Striggio's long lost Mass in 40 Parts has recently been rediscovered. Robert Hollingworth talks about its history as a Medici family commission and his surround sound recording of it with I Fagiolini.
Herman Melville's Moby Dick has inspired many retellings including the new film Age of the Dragons and an exhibition in Croydon. Philip Hoare - who won the Samuel Johnson Prize for non-fiction for his book Leviathan - discusses these and other examples including the novel Ahab's Wife and films such as Jaws.
As part of Radio 4's World Book Night coverage we talk to Edith Grossman, translator of works by Nobel Prize winning Colombian novelist and screenwriter Gabriel García Márquez. Love in the Time of Cholera, his tale of unrequited love that seeks to find new life 51 years later, is one of 25 titles chosen to be given away across the UK and Ireland as part of the first World Book Night which takes place on Saturday 5 March.
The books range from Fingersmith by Sarah Waters to Northern Lights by Philip Pullman to Beloved by Toni Morrison and on the Radio 4 website you can find a collection of interviews about the books which includes past Front Row interviews with John le Carré and the late Muriel Spark.
Producer Robyn Read.
Chapters
The Wizard of Oz

Andrew Lloyd Webber and Tim Rice have created new songs for the musical production of The Wizard of Oz. Matt Wolf - London Theatre Critic of the International Herald Tribune reviews.

Duration: 06:15

Robert Hollingworth - Striggio's Mass

Striggio's long lost Mass in 40 Parts has recently been rediscovered. Robert Hollingworth talks about its history as a Medici family commission and his surround sound recording of it with I Fagiolini.

Duration: 10:20

Moby Dick

Philip Hoare looks at the many retellings of Herman Melville's Moby Dick.

Duration: 04:56

Edith Grossman

An interview with Edith Grossman, translator of works by Nobel Prize winning Colombian novelist Gabriel García Márquez, as part of Radio 4's World Book Night coverage.

Duration: 07:24