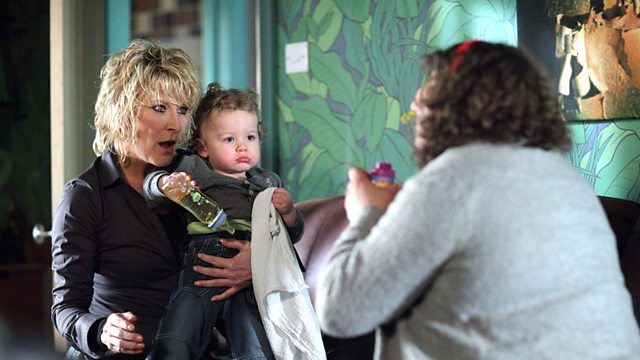 21/02/2011
There's a party to mark the opening of the B&B. Kim's excited, but her day goes downhill when their only booking is cancelled. Denise overhears Ian and Billy whispering about Lucas to a stranger, and realises he's a journalist. Upset, Denise joins Zainab in the Masala Unit. Zainab insists Denise destroy all her cards in the name Denise Johnson, she's Denise Fox again now. Kim's thrilled when a doctor books a room at the B&B. Zainab walks Denise home hoping to see the doctor and is shocked he turns out to be Yusef.
Stuck at work, Darren allows Heather to pick up George from nursery. Max thinks Heather won't give George back. Heather considers it, but eventually returns George to Darren, realising it's the best place for him. Heather agrees to stay with Shirley until she can afford a place of her own again.
It's Ricky's birthday. Janine helps the kids throw him a party, stealing food and balloons from the B&B. Janine attempts to bake a cake and feels undermined when Tiffany calls Whitney in to help. Ricky and Carol want Whitney to come home, but Janine tells Whitney that they don't want her; she throws herself at men and could corrupt Tiffany. When Ricky's cake ends up on the floor, Janine blames Whitney and she leaves in tears.
Alfie persuades Ian to shut the café, making the Vic busy and forcing Kat to accept Alfie's help. However, as soon as things quieten down Kat heads to the B&B, leaving Alfie in the pub. Kat learns of Alfie's plan to get them together, but says nothing to him.
Happy, Julie tells Billy her tag's been taken off, they can do whatever they like now. Billy suggests she move in with him, but Shirley insists Phil won't allow it.
Last on
Credits
| Role | Contributor |
| --- | --- |
| Yusef Khan | Ace Bhatti |
| Zainab Masood | Nina Wadia |
| Denise Johnson | Diane Parish |
| Kim Fox | Tameka Empson |
| Patrick Trueman | Rudolph Walker |
| Heather Trott | Cheryl Fergison |
| Shirley Carter | Linda Henry |
| Darren Miller | Charlie G Hawkins |
| Alfie Moon | Shane Richie |
| Kat Moon | Jessie Wallace |
| Janine Malloy | Charlie Brooks |
| Whitney Dean | Shona McGarty |
| Ricky Butcher | Sid Owen |
| Carol Jackson | Lindsey Coulson |
| Billy Mitchell | Perry Fenwick |
| Julie Perkins | Cathy Murphy |
| Max Branning | Jake Wood |
| Ian Beale | Adam Woodyatt |
| Jodie Gold | Kylie Babbington |
| Executive Producer | Bryan Kirkwood |
| Director | Gwennan Sage |
| Writer | Sally Abbott |
| Arthur 'Fat Boy' Chubb | Ricky Norwood |
| Mercy Olubunmi | Bunmi Mojekwu |
| Liam Butcher | James Forde |
| Tiffany Butcher | Maisie Smith |
| Morgan Jackson-King | Devon Higgs |
| Nick Meth | Hywel Morgan |