Main content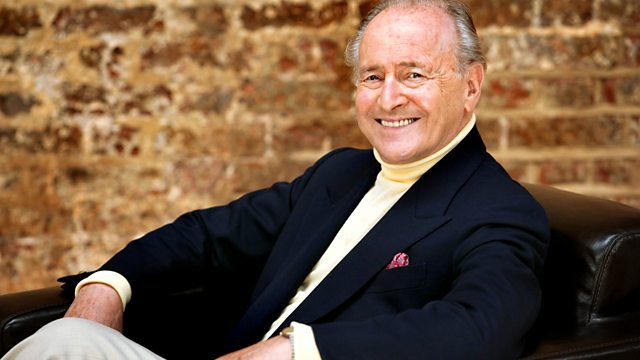 Episode 1
James Moir presents a tribute to David Jacobs CBE, who celebrated 67 years at the mic last year, with the help of friends, colleagues and colourful memories from David himself.
James Moir presents a tribute to David Jacobs CBE, the doyen of British broadcasters who celebrated 67 years at the mic last year. This colourful, candid profile is put on the record mostly by David himself, with new interviews and tributes from a host of friends and colleagues. It's also illustrated by a wealth of archive and music.
David started his broadcasting career in the Royal Navy in 1944. Shipped to Ceylon, he broadcast on Radio SEAC and in 1947 joined the BBC. His radio credits include Housewives' Choice, BBC Jazz Club, Pick of the Pops, Saturday Show Band Show, Melodies For You, Any Questions?, Any Answers? , a daily Radio 2 show and currently The David Jacobs Collection.
One of David's most famous radio programmes was Journey Into Space, in which he famously (and eerily) introduced all 53 episodes of the sci-fi serial. He also played no less than 22 characters, often having on-air conversations with himself!
His TV credits include Juke Box Jury, Top Of The Pops, David Jacobs Words and Music, Saturday Night With David Jacobs, Where Are They Now?, What's My Line?, Who, What Or Where?, Wednesday Show, Wednesday Magazine, Eurovision Song Contest, A Song For Europe, Miss World, Come Dancing, and Countdown.
As an actor, David played the part of Laurie in the first serialisation for television of Little Women. He has made numerous film appearances, and for several years was a commentator on British Movietone News. He is also the author of Jacobs' Ladder, the best-seller Caroline, and Any Questions? with Michael Bowen.
David Jacobs: On The Record is introduced by James Moir (former Head of Light Entertainment Group BBC TV and former Controller of Radio 2) and features new interviews and tributes from Michael Bowen, Field Marshall Lord Bramall, Ken Bruce, Desmond Carrington, Charles Chilton, Michael Crawford, Dame Judi Dench, Chris Evans, Sir Peter Hall, Dame Vera Lynn, Brian Matthew, Pete Murray, Lord Rix (actor Brian Rix), Carole Stone, June Whitfield, Ann Widdecombe and Michael Winner.
Episode one covers covers David's childhood, family and life in Streatham; his naval service; his post-war career at the BBC, including Journey Into Space; and working for Radio Luxembourg. It first broadcast in March 2011.
Last on

More episodes
Previous
You are at the first episode
Broadcasts