Main content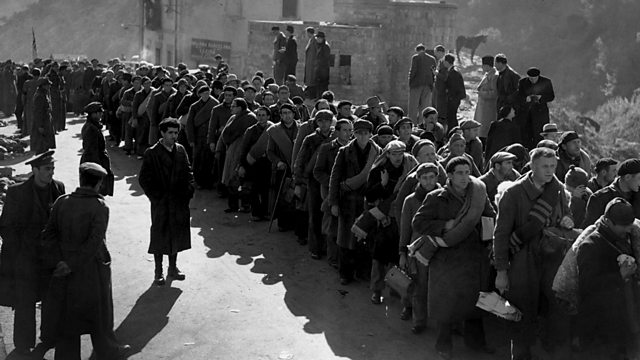 The Last of the International Brigaders
The Last of the International Brigaders: The Spanish Civil War, as told by the International Brigade volunteers who tried to help stop the march of fascism through 1930s Europe.
The Spanish Civil War began in 1936, for a civil war constrained entirely within the boundaries of one country, the monuments to the fallen are spread across a remarkably high number of nations. That's because of the International Brigade - whose volunteers travelled across the globe to join the fight against fascism. This programme recounts the events of that civil war through new interviews with the last remaining British Brigaders and archive interviews with many others.
From the defence of Madrid to the Battle of Jarama and on to the Ebro River we hear from the men and women who were there. Jack Edwards served with the International Brigade from the beginning, he was wounded in the battle of Jarama. After a period of convalescence he carried on fighting until he and all the other Brigaders were ordered out of Spain in 1939. Paddy Cochrane, an ambulance driver with the International Brigade, ferried many a wounded soldier from the battle fields until wounded himself by a grenade. Both Jack and Paddy were politically active young men who believed that fighting Franco was the only way to stop the fascist movement from taking over Britain. Thomas Watters, of the Scottish Ambulance Unit, drove from Scotland with a unit of ambulances. As both a driver and a first aider Thomas's motives for volunteering were purely humanitarian.
With these new interviews, and many archive interviews, we cover the events in Spain from the human, day to day perspective. Richard Baxell, historian and author talks us through the political side of events. And Professor Paul Preston, of the International History department at the LSE, gives us a perspective of events in Europe running up to the outbreak of the civil war and details of the motives of Franco.
We also look at how the volunteers were regarded by others. Were they terrorists, idealists, atheists determined to undermine Catholic Spain or heroes, many of whom gave of their lives to fight in what some have called the first battle of World War II. What of today? Are there still young men and women volunteering for causes that the mass populous may not agree with?
Presenter: D J Taylor
New Interviewees: Richard Baxell, Professor Paul Preston, Jack Edwards, Paddy Cochrane and Thomas Watters.
Produced by: Angela Sherwin.