Main content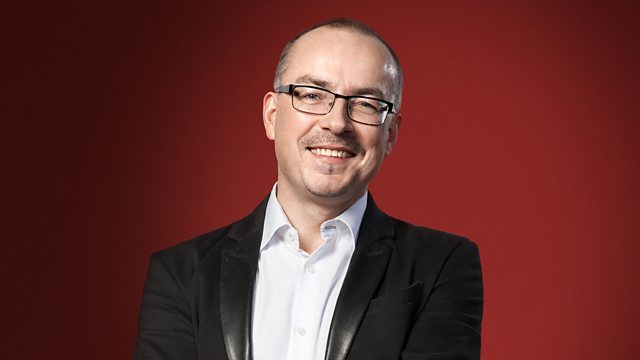 Building a Library - Ravel: Alborada del gracioso
With Andrew McGregor. Including Building a Library - Ravel: Alborada del gracioso; Jan Smaczny on Czech music conducted by Charles Mackerras; Disc of the Week - Strauss: Intermezzo.
Andrew McGregor introduces CD Review, Radio 3's weekly programme devoted to all that's new in the world of recorded music including:
9.05am
SCARLATTI: 18 Sonatas
Alexandre Tharaud (piano)
'Alexandre Tharaud plays Scarlatti'
VIRGIN CLASSICS 509996 4201603 (CD)
BRAHMS Sonatas Nos 1 & 2; Scherzo Op.4
Alexander Melnikov (piano – 1875 Bösendorfer)
HARMONIA MUNDI HMC 902086 (CD)
GRAZYNA BACEWICZ: Piano Quintets 1 & 2; Piano Sonata No.2
Krystian Zimerman (piano); Kaja Danczowska (violin), Agata Szymczewska (violin), Ryszard Groblewski (viola), Rafal Kwiatkowski (cello)
DEUTSCHE GRAMMOPHON 477 8332 (CD)
9.30am Building a Library
Rob Cowan surveys the currently available recordings of Ravel's Alborada del Gracioso.
Top recommendation:
Berlin Philharmonic
Pierre Boulez (conductor)
DEUTSCHE GRAMMOPHON 4398592 (CD)
Also available as 2 hybrid SACDs: 4770742
10.20am
Carmino de Santiago Medieval Music from Spanish Pilgrimages
Spielleyt – Early Music Freiburg
Regina Kabis (soprano), Jutta Haaf (harp), Albrecht Haaf (flutes, portative organ, tenor fiddle) Marc Lewon (vocals, keyed fiddle), Bernd Maier (hurdy gurdy, bagpipe), Murat Cosun (frame drums)
CHRISTOPHORUS CHR 77330 (CD)
LEONARD BALADA : Caprichos No.2, 3 'Homenaje a las Brigadas Internacionales' & 4 'Quasi Jazz'
Andrés Cárdenes (violin) Jeffrey Turner (double bass), Pittsburgh Sinfonietta, Lawrence Loh (conductor)
NAXOS 8.572176 (CD) - Budget
10.15 New Releases
Jan Smaczny chats to Andrew about two recent box-sets of seminal recordings of Czech repertoire conducted by Sir Charles Mackerras.
JANACEK: Jealousy (original overture to Jenufa)
The Cunning Little Vixen – orchestral suite; Sarka – Overture; Taras Bulba
Katyá Kabanová – overture, interludes; Schluck and Jau; Sinfonietta
Interview with Sir Charles Mackerras
Glagolitic Mass; Amarus – Cantata for soloists, mixed chorus and orchestra
MARTINU: Juliette - orchestral suite; Field Mass for male chorus with baritone solo and orchestra; Double concerto for two string orchestras, piano and timpani; Les Fresques de Piero della Francesca
DVD - JANACEK: Glagolitic Mass; Jealousy; Taras Bulba
Czech Philharmonic Orchestra, Prague Radio Symphony Orchestra, Prague Philharmonic Choir; Sir Charles Mackerras (conductor)
SUPRAPHON SU 4042-2 (4 CDs & DVD) - Budget
DVORAK: Slavonic Dances, lst Series, Op.46; Slavonic Dances, 2nd series, Op.72
(CD1)
Symphonic Variations, Op.78; Symphony No.6 in D major
(CD2)
Symphony No. 8 in G major; Symphony No.9 in E minor 'From the New World'
(CD3)
Legends; Scherzo capriccioso
In Nature's Realm – concert overture
(CD4)
Symphonic Poems – The Water Goblin/Vodnik; The Noon Witxch/Polednice; The Golden Spinning Wheel/Zlaty kolovrat; The Wild Dove/Holoubek
(CD5)
SMETANA: Ma Vlast
(CD6)
Czech Philharmonic Orchestra, Prague Symphony Orchestra, Sir Charles Mackerras (conductor)
SUPRAPHON SU 4041-2 (6 CDs) - Budget
11.40am Disc of the Week
RICHARD STRAUSS Intermezzo
Christine: Elisabeth Soderstrom (soprano), Robert Storch, her husband, a conductor: Marco Bakker (baritone), Anna, their maid: Elizabeth Gale (soprano), Franzl, their 8 year old son: Richard Allfrey (spoken), Baron Lummer: Alexander Oliver (tenor), The Notary: Thomas Lawlor (bass-baritone), His wife: Rae Woodland (soprano), Stroh, another conductor: Anthony Rolfe Johnson (tenor), A commercial counsellor: Donald Bell (baritone), Legal Counsellor: Brian Donlan (baritone), A Singer: Dennis Wicks (bass), Resi, young girl: Cynthia Buchan (soprano), Glyndebourne Festival Opera, London Philharmonic Orchestra, Sir John Pritchard (conductor)
Recorded Live at Glyndebourne 13 July 1974
CHANDOS 3174(2) (2 CDS) – Mid-price