Main content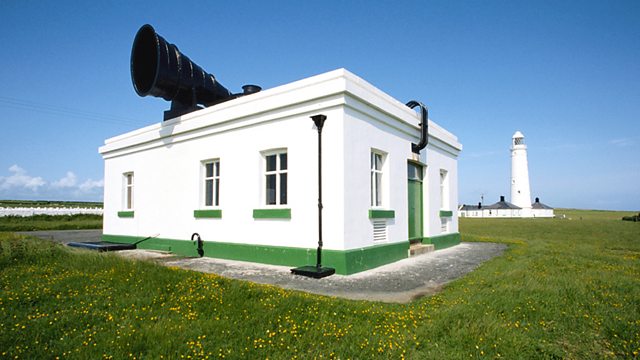 The Foghorn: A Celebration
4 Extra Debut. Peter Curran tours Portland Bill Lighthouse to celebrate the foghorn's role in literature, film and as a musical instrument. From February 2011.
Peter Curran celebrates the humble foghorn's powerful role in music, literature and film.
The foghorn was invented in 1855 by Robert Foulis, a Scotsman living in Canada who heard the low notes (but not the high notes) of his daughter's piano playing whist walking far from the family's fog-shrouded coastal cottage, thus inspiring the first steam powered fog horn. But beyond the sea, it's 'whale-like' sound has inspired artists, writers and musicians to use the foghorn both as symbol and instrument.
Peter Curran hears from foghorn composer of 'Maritime Rites' Alvin Curran, Jason Gorski, aka The Fogmaster, who used to conduct guerrilla foghorn concerts in the Bay Area of California, and takes a tour of Portland Bill lighthouse in Dorset, with keeper Larry Walker, taking the opportunity to set off an almighty Victorian foghorn. He also joins James Bond film music and future 2012 Olympic theme music composer David Arnold, who tries to digitally recreate the foghorn's cry, and Dr Harry Witchel, who analyses Peter's yearn for the sound as a child.
Producer: Sara Jane Hall.
Featured in...
A selection of weird and wonderful programmes on Radio 4

A selection of weird and wonderful programmes, perfect for late night listening