Main content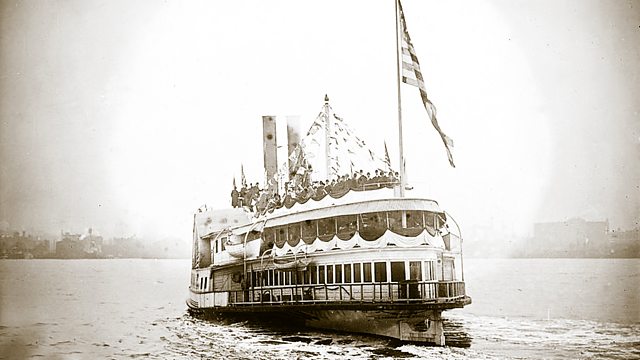 In Moya O'Shea's dramatisation of Edna Ferber's tale of Magnolia Hawks and the folk on the Cotton Blossom Show Boat, a touch of Hollywood is brought to Radio 4's Classic Serial.
Show Boat
By Edna Ferber
Dramatised by Moya O'Shea
Part One
When Magnolia Hawks climbs aboard the Cotton Blossom Floating Palace Theatre a whole new world opens up and so her remarkable life begins ...
Kim.....................Lysette Anthony
Magnolia..............Samantha Spiro
Parthy..................Laurel Lefkow
Andy....................Morgan Deare
Young Magnolia....Shahrazad Matthews
Gaylord................Ryan McCluskey
Julie.....................Samantha Dakin
Steve....................Henry Devas
Elly.......................Leah Brotherhead
Schultzy................Jude Akuwudike
Jo.........................Nonso Anozie
Queenie................Tracy Ifeachor
Sophy...................Joanna Monro
Windy...................Sean Baker
Pete......................Mark Caven
Mr. Mowson...........Iain Batchelor
The Music by Neil Brand and the Banjo Played by Mike Hammond
Directed by Tracey Neale
No little girl had a more enchanted childhood than Magnolia Hawks. Her daughter Kim, a famous actress, begins to tell the tale to a journalist from 'The New Yorker'.
Andy Hawks, Magnolia's father, a river boat captain, buys the Cotton Blossom Floating Palace Theatre, much to the dismay of Parthenia, his wife. Parthy doesn't approve of the stage but Magnolia loves the actors and actresses who play to the audiences each night on a glittering show boat which proceeds up and down the Mississippi River.
For Magnolia the Show Boat is a magical place full of wonderful company members. There's the beautiful and talented Julie, kind Schultzy and Jo, a black member of the crew, who plays the banjo and has the most amazing soulful voice that seems to seep up from the river itself when he sings 'Deep River'.
Magnolia is destined to become a performer and before long her name is famous up and down the Mississippi, Ohio and Missouri Rivers. Then the handsome and charming Gaylord Ravenal joins the company. Gaylord is actually a riverboat gambler and on the run from debts but he manages to bluff his way onto the boat by pretending to be an actor. But does anyone know his secret?
Gaylord's a natural and soon the pair are playing lovers on stage - and off. If there's one thing Parthenia dislikes more than actors it's gamblers but will she be able to separate the two of them?
Show Boat is huge, romantic, challenging, uncomfortable, exciting, unexpected and original. Edna Ferber's research for the novel took her to the Deep South and a voyage aboard one of the last of the show boats. Her themes of love, regret, racism and failure still have much to say to us in the 21st Century. And the constant and brooding presence within the tale is always 'The River' upon which they travel.
The River's presence is beautifully captured by Neil Brand's music. Neil has written music for TV documentaries such as 'Paul Merton's Silent Clowns' and many radio plays including 'The Midnight Folk', 'The Box of Delights' and 'A Town Like Alice'. Neil also writes radio plays, including the Sony-nominated 'Stan', which aired on BBC4 too.
This story, which brings a touch of Hollywood to Radio 4's Classic Serial, is narrated by Magnolia's daughter, Kim. Kim is played by Lysette Anthony who has appeared in 'The Bill', 'Casualty', 'Doctors' and 'Coronation Street'. Her film work includes 'Krull', 'Husbands and Wives' and 'Look Who's Talking Now'. Theatre work includes 'No Expense Spared' at The New End.
Magnolia is played by Samantha Sprio who has just won the Best Female Comedy Breakthrough Artist at this year's Comedy Awards. In addition to 'Grandma's House' for which she won the award, Samantha played Barbara Windsor to great acclaim in 'Cor Blimey' and was winner of Best Actress in a Musical at the Olivier Awards last year for 'Hello Dolly'.
Jo is played by Nonso Anozie who appears in the recently released film 'Brighton Rock' Nonso was the winner of the Screen Nation Award for Emerging Talent for his performance in 'Cass'. He is in the soon to be released 'Conan The Barbarian' and is currently filming 'The Grey'.
The Author:
Edna Ferber trained as a journalist and worked on the Chicago Tribune. Then she began writing short stories and novels, which achieved world success. Among them 'Giant', 'Cimarron', 'Saratoga Trunk' and 'So Big', each made into a major feature film starring the likes of James Dean, Elizabeth Taylor, Rock Hudson and Gary Cooper. Her plays include 'Stage Door' and 'Dinner at Eight'.
The Dramatist:
Moya O'Shea's 'Theo' was voted most popular play ever by the listeners of Radio 7 and her dramatisation of 'A Town Like Alice' winner of a Sony Award in 1998. Other work includes dramatisations of Mary McCarthy's 'The Group' and Daphne du Maurier's play 'September Tide'. Original work includes 'Lovely Witches', 'Late In The Day' and 'A Night in '54'. Moya's television work includes 'Doctors'. She has two film scripts in development.
More episodes
Previous
You are at the first episode