Main content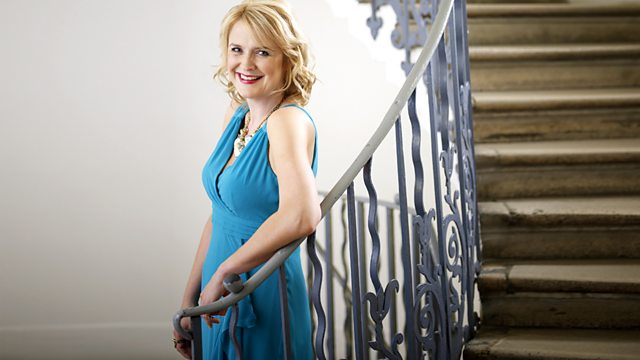 Tuesday - Sarah Walker
With Sarah Walker. Bach: Brandenburg Concerto No 3. Debussy: Prelude a L'apres-midi d'un faune. Rimsky-Korsakov: Nimfa. Beethoven: Piano Trio (Ghost). Saint-Saens: Africa, Op 89.
With Sarah Walker. This week, music from the 1890s and recordings by the Beaux Arts Trio. Today's highlights include Debussy's Prelude a L'apres-midi d'un faune from Bernard Haitink and the Royal Concertgebouw Orchestra, Beethoven's "Ghost" Trio played by the Beaux Arts Trio and Delius's Paris - The Song of a Great City from the BBC Symphony Orchestra under Andrew Davis.
10.00
Bach
Brandenburg Concerto no.3 in G, BWV 1048
Academy of Ancient Music
Christopher Hogwood (conductor) L'Oiseau-Lyre 414 187-2
10.11
Debussy
Prelude a L'apres-midi d'un faune
Royal Concertgebouw Orchestra
Bernard Haitink (conductor)
Decca 438 742-2
10.23
Rimsky Korsakov
Nimfa (The Nymph), Op.56 No.1
Anna Netrebko (soprano)
Daniel Barenboim (piano)
DG 477 8589
10.27
Beethoven
Piano Trio in D, Op.70 No.1 (The Ghost)
Beaux Arts Trio
Philips 434 146-2
10.58
Saint-Saens
Africa, fantasy for piano and orchestra, Op.89
Jean-Philippe Collard (piano)
Royal Philharmonic Orchestra
Andre Previn (conductor)
EMI 7 49757 2
11.09
Mahler
"Das himmlische leben"
Thomas Hampson (baritone)
Wiener Virtuosen
DG 477 9289
11.18
Rameau
4 pieces from Suite in G (from Pieces de clavecin, 1728): La Poule (3:11); Les Sauvages (1:44); L'Enharmonique (4:21); L'Egyptienne (3:12)
Trevor Pinnock (harpsichord by Adam Burnett after Blanchet)
CRD 3330
11.32
Delius
Paris - The Song of a Great City
BBC Symphony Orchestra
Andrew Davis (conductor)
Apex 0927-49423-2.