Main content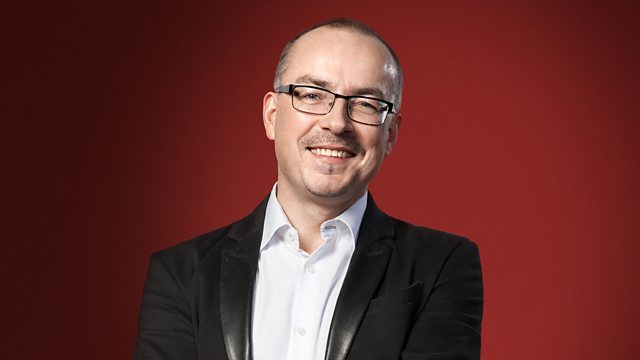 Building a Library - Brahms: Four Serious Songs
With Andrew McGregor. Including Building a Library - Brahms: 4 Serious Songs; New Mahler recordings, including Symphonies Nos 2, 9 and 4; Disc of the Week - Rossini: Stabat Mater.
CD Review: Andrew McGregor with all that's new in the world of classical music recording including:
9.05am
PHILIPPE ROGIER: Missa Domine Dominus Noster; Missa Domine in Virtute Tue etc.
Magnificat / His Majestys Sagbutts and Cornetts / Philip Cave (director)
Linn CKD 348 (Hybrid SACD)
"Hail, Mother of the Redeemer"
VICTORIA: Salve Regina; Missa Alma Redemptoris Mater etc.
The Sixteen / Harry Christophers (conductor)
Coro COR16088 (CD)
"O Virgo Benedicta": Music of Marian Devotion
The Marian Consort / Rory McCleery (conductor)
DCD34086 (CD)
"Hanacpachap": Latin American music at the time of the Conquistadores
Ensemble Elyma / Gabriel Garrido (conductor)
Pan Classics PC 10230 (CD)
9.30am Building a Library
Richard Wigmore surveys the currently available recordings of Brahms's 4 Serious Songs.
Top recommendation:
Thomas Quasthoff (baritone) / Justus Zeyen (piano)
DG download
10.20am
BRAHMS: Piano Quartets Nos. 1 & 3
Milander Quartet
Avie AV 2203 (CD)
10.25 New Releases: Mahler
Edward Seckerson joins Andrew to discuss new and recent releases of Mahler recordings, including extracts from the following CDs:
MAHLER: Symphony No.8
Julia Varady, Jane Eaglen, Susan Bullock (soprano); Trudeliese Schmidt, Jadwiga Rappe (alto); Kenneth Riegel (tenor), Eike Wilm Schulte (baritone); Hans Sotin (bass) / Eton College Boys' Choir / London Symphony Chorus / London Philharmonic Orchestra and Choir / Klaus Tennstedt (conductor)
LPO LPO-0052 (2 CDs)
MAHLER: Symphony No.9
Tonhalle Orchestra / David Zinman
RCA 88697746722 (2 CDs)
MAHLER: Symphony No.2
Kate Royal (soprano), Magdalena Kozena (mezzo-soprano) / Berlin Radio Choir / Berlin Philharmonic / Simon Rattle (conductor)
EMI 6473632 (2 CDs)
MAHLER: Symphony No.1
Royal Stockholm Orchestra / Sakari Oramo (conductor)
Exton EXCL 00034 (Hybrid SACD)
MAHLER: Symphony No.2
Ricarda Merbeth (soprano), Bernardo Fink (mezzo-soprano) / Netherlands Radio Choir / Royal Concertgebouw Orchestra / Mariss Jansons (conductor)
RCO Live RCO 10102 (2 Hybrid SACDs + bonus DVD)
MAHLER: Symphony No.9
WDR Symphony Orchestra / Jukka-Pekka Saraste (conductor)
Profil PH10035 (CD)
MAHLER: Symphony No.4
Rosemary Joshua (soprano) / Orchestra de Champs-Elysees / Philippe Herreweghe (conductor)
Out Here PH1 (CD)
MAHLER: Symphony No.9
Lucerne Festival Orchestra / Claudio Abbado (conductor)
Accentus Music ACC 20214 (DVD)
11.40am Disc of the Week
ROSSINI: Stabat Mater
Anna Netrebko (soprano), Joyce DiDonato (mezzo-soprano), Lawrence Brownlee (tenor), Ildebrando D'Arcangelo (bass) / Orchestra e Coro dell'Accademia Nazionale di Santa Cecilia / Antonio Pappano (conductor)
EMI 6405292 (CD)