Main content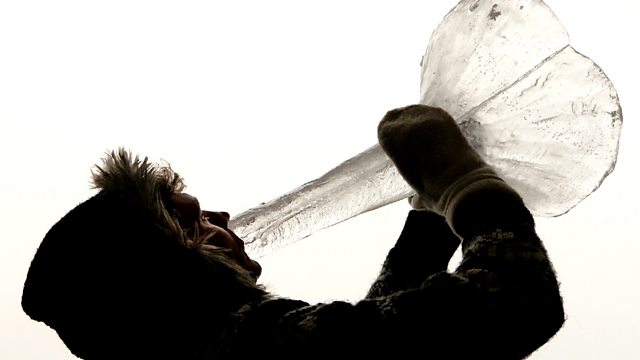 The Music That Melted
Richard Coles travels to Norway where musicians gather under the full moon, and Northern Lights, to make ice music. From 2011.
Every year on a frozen fjord in Norway, musicians gather under the full moon, and a canopy of Northern Lights, to perform ice music. Over a weekend, instruments are carved from blocks of ice, and music played in an arena of carved ice blocks to a well wrapped audience, who arrive on cross country skis. Sometimes standing in flurries of snow, sometimes in the light of flame torches, under the northern lights, they listen spellbound (and a bit chilly) to the magical sounds produced by instruments with a short life span - each one as unique and short-lived as a sandcastle.
Richard Coles, ex band member of the 90's pop group The Communards, meets the people who play these instruments, which last only as long as the temperature stays below zero, and has a go himself.
Bill Covitz is the expert ice sculptor who makes a different range of instruments each festival. This year he is creating, for the first time, an Isleik, an ice version of a langeleik, the traditional harp of Norway.
Musicians come from across the globe to try their hands at instruments which require, more often than not, fingerless gloves and good circulation; the ice-sculpted instruments giving off surprising sounds that vary according to the quality of the ice and the temperature.
Richard Coles joins the preparations, to see the creation and the destruction of the music that melted.
Producer: Sara Jane Hall
First broadcast on BBC Radio 4 in February 2011.
Last on
Broadcasts