Main content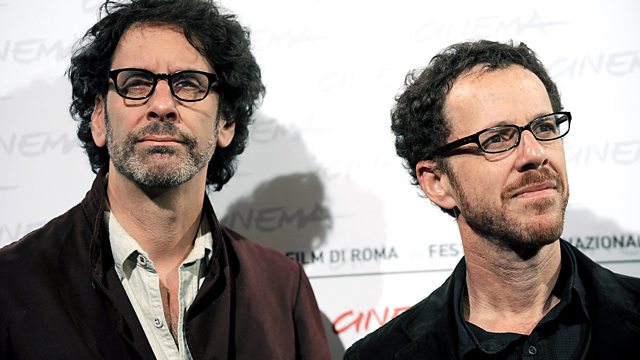 Coen Brothers; John Barry obituary; Antony Beevor; Brighton Rock reviewed
Mark talks to US film-makers Joel and Ethan Coen about their new film True Grit; Front Row pays tribute to composer John Barry; and a new film version of Brighton Rock is reviewed.
With Mark Lawson.
US film-makers Joel and Ethan Coen, known together as the Coen brothers, discuss their latest movie True Grit, starring Jeff Bridges and Matt Damon. The multi-award winners also reflect on their close working relationship across films such as The Ladykillers, No Country for Old Men and Fargo.
British composer John Barry, renowned for his film music, has died aged 77. Lyricist Don Black, who collaborated with Barry on songs such as Diamonds Are Forever and the Oscar-winning Born Free, pays tribute to the man famous for his work on the James Bond films, as well as dozens of scores for the cinema and for TV.
As a new film version of Graham Greene's Brighton Rock is released, author Linda Grant discusses the thriller about a psychopathic 17 year old gang-leader called Pinkie. The new film stars Sam Riley as the teenage killer, along with John Hurt, Helen Mirren and Andy Serkis.
Antony Beevor discusses the blurring of fact and fiction in novels, TV dramas and films, which he addresses in the Roy Jenkins Memorial Lecture at the Royal Society of Literature.
Producer Ella-mai Robey.
Chapters
Joel and Ethan Coen

US film-makers Joel and Ethan Coen, known together as the Coen brothers, discuss their latest movie True Grit.

Duration: 11:46

John Barry Tribute

British composer John Barry, renowned for his film music, has died aged 77. Lyricist Don Black pays tribute.

Duration: 05:58

Brighton Rock Review

As a new film version of Graham Greene's Brighton Rock is released, author Linda Grant discusses the thriller and reviews the film.

Duration: 05:13

Antony Beevor

Antony Beevor discusses the blurring of fact and fiction in novels, TV dramas and films, which he addresses in the Roy Jenkins Memorial Lecture at the Royal Society of Literature.

Duration: 04:55