Main content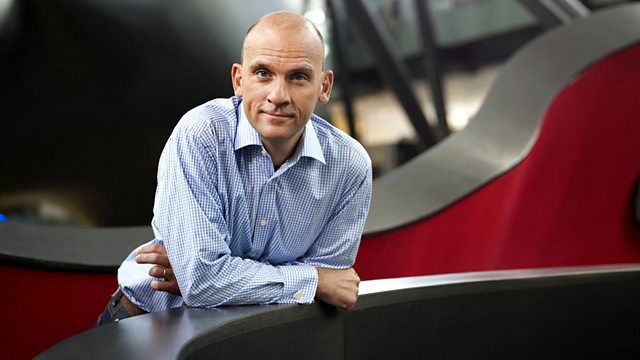 Orchestre National de Jazz, UK Jazz Orchestra
Jez Nelson presents the Orchestre National de Jazz playing in concert with drummer/composer John Hollenbeck of the Claudia Quartet. Plus a debate about a possible UK jazz orchestra.
Jez Nelson presents France's Orchestre National De Jazz in collaboration with drummer and composer John Hollenbeck of the Claudia Quartet. Under the leadership of its conductor Daniel Yvinec, the ONJ have made a name for themselves for their forward looking and innovative approach to the big band format. Following their acclaimed collaboration with UK songwriter Robert Wyatt, their latest project brings them together with The Claudia Quintet's John Hollenbeck, one of the most influential composers currently working in jazz. With the title Shut Up And Dance, the concert takes as its theme the way music and movement combine, "via pygmy music, Gnawa trance and Duke Ellington swing". Recorded at London Jazz Festival 2010. Also in the programme Jez Nelson takes a look at the debate on whether the UK should have its own national jazz orchestra.
Presenter: Jez Nelson
Producer: Joby Waldman.
Music Played
Jez talks to composer John Hollenbeck and Artistic Director of the ONJ Daniel Yvinec

Orchestre National de Jazz recorded at the Purcell Room, London on 16 November 2010

Untitled

Line up: Eve Risser (piano, prepared piano & flutes), Vincent Lafont (keyboards, piano & electronics), Antonin-Tri Hoang (saxophones, clarinet & piano), Matthieu Metzger (saxophones & trombophone),

Untitled

Rémi Dumoulin (saxophones & clarinets), Joce Mienniel (flutes & electronics), Guillaume Poncelet (trumpet, flugelhorn & keyboards),

Untitled

Pierre Perchaud (guitar), Sylvain Daniel (electric bass), John Hollenbeck (drums). Artistic Director Daniel Yvinec, Music by John Hollenbeck

John Cumming and Nick Smart discussion

Untitled

John Cumming promoter and Director of Serious and Nick Smart Head of Jazz and the Royal Academy of Music join Jez for a discussion on whether the UK should have a national jazz orchestra