Main content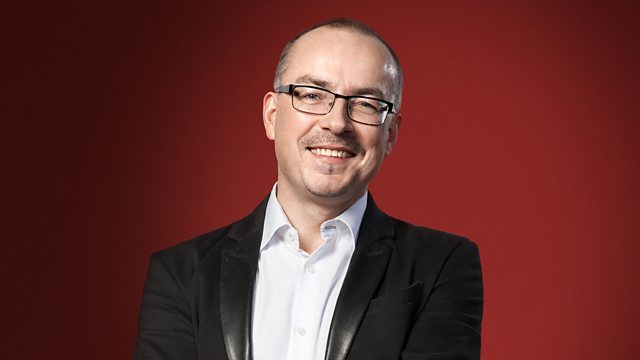 Building a Library - Liszt: Annees de Pelerinage (Bk 2)
With Andrew McGregor. Including Building a Library - Liszt: Annees de Pelerinage (Bk 2); New recordings of Prokofiev and Hindemith; Disc of the Week - Lutoslawski: Orchestral Works.
Andrew McGregor introduces CD Review, Radio 3's weekly programme devoted to what's new in the world of recorded music, including:
9.05am
DEBUSSY: "Orchestral works Vol.5": La boite a joujoux; Estampes Nos 1 & 2; L'isle joyeuse; 6 epigraphes antiques
Orchestre National de Lyon / Jun Markle
Naxos 8.572568 (CD)
SAINT-SAENS: Music for the Prix de Rome inc. Ivanhoe; Le Retour de Virgine; Motets au Saint Sacrement
Flemish Radio Choir / Brussels Philharmonic / Herve Niquet (conductor)
Glossa GCD 922210 (2 CDs)
BIZET: Clovis et Clotilde; Te Deum
Katarina Javonavic (soprano), Philippe De (tenor), Mark Schnaible (bass) / Choeur Regional Nord – Pas-de-Calais / Orchestre National de Lille / Jean-Claude Casadesus (conductor)
9.30am Building a Library
David Owen Norris surveys the currently available recordings of Liszt's Années de Pélerinage, book 2: Italy, and makes a top recommendation.
Top choice:
Alan Marks (piano)
Nimbus NI5226 (CD)
10.20am New Releases
Martin Cotton joins Andrew to discuss new orchestral releases, including extracts from the following discs:
VICTOR DE SABATA: Il Mercante di Venezia
Malaga Philharmonic / Aldo Ceccato (conductor)
Discantica 228 (CD)
KHACHATURIAN: Spartacus; Gayaneh – excerpts
Bournemouth S O / Kirill Karabits (conductor)
Onyx 4063 (CD)
PROKOFIEV: Lieutenant Kije; The Love of Three Oranges – suites; The Ugly Duckling
Jacqueline Porter (soprano) / Andrei Laptev (baritone) / Sydney Symphony / Vladimir Ashkenazy (conductor)
Exton EXCL-00049 (Hybrid SACD)
PROKOFIEV: Symphonies Nos. 1 & 5
Sydney Symphony / Vladimir Ashkenazy (conductor)
Exton EXCL-00042 (Hybrid SACD)
HINDEMITH: Complete music for viola and orchestra
Lawrence Power (viola) / BBC Scottish S O / David Atherton (conductor)
Hyperion CDA67774 (CD)
11am Recent Releases: Bargain-price Collections
HERMANN BAUMANN COLLECTION: Horn concertos by Gliere, Haydn, Mozart, Telemann, Weber et al.
Hermann Baumann (horn) / Leonard Hokanson (piano) / Academy of St Martin in the Fields / St Paul Chamber Orchesta / Leipzig Gewandhausorchester / Folkwang Horn Ensemble / Iona Brown, Pinchas Zukerman, Kurt Masur (conductors)
Newton Classics 8802035 (7 CDs)
HEINZ HOLLIGER COLLECTION: Works by Vivaldi, Telemann, Albinoni, Haydn, Mozart, Martin, Honegger, Martinu et al.
Artists include: Heinz Holliger (Oboe), Hermann Baumann (Horn), Maurice Bourgue (Oboe), John Constable (Piano), Maria Teresa Garatti (Harpsichord), Ursula Holliger (Harp), Aurele Nicolet (Flute), Klaus Thunemann (Bassoon), Iona Brown, Eliahu Inbal, Raymond Leppard, Sir Neville Marriner, David Zinman (conductors)
Brilliant Classics 94054 (10 CDs)
11.45am Disc of the Week
LUTOSLAWSKI: Orchestral works Vol.1: Concerto for Orchestra; Symphony No.3; Chain 3
BBC S O / Edward Gardner (conductor)
Chandos CHSA 5082 (Hybrid SACD)