Main content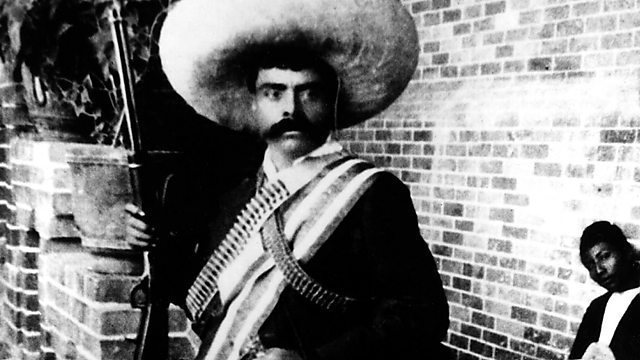 The Mexican Revolution
Melvyn Bragg and his guests discuss the Mexican Revolution of 1910, the popular uprising which lasted ten years and resulted in the overthrow of President Porfino Diaz.
Melvyn Bragg and his guests discuss the Mexican Revolution.In 1908 the President of Mexico, Porfirio Diaz, gave an interview to an American journalist. He was 77 and had ruled the country in autocratic fashion for over thirty years. He discussed the country's economic development and spoke of his intention to retire to his country estate after overseeing a transition to multiparty democracy.Things did not turn out quite like that. Two years later Diaz was toppled by a popular uprising. It was the beginning of a tumultuous decade in which different factions fought for supremacy, and power changed hands many times. The conflict completely changed the face of the country, and resulted in the emergence of Mexico's most celebrated folk hero: Emiliano Zapata.With:Alan KnightProfessor of the History of Latin America at the University of OxfordPaul GarnerCowdray Professor of Spanish at the University of LeedsPatience SchellSenior Lecturer in Latin American Cultural Studies at the University of Manchester. Producer: Thomas Morris.
FURTHER READING
B. Hamnett, 'A Concise History of Mexico' (CUP, Cambridge, 1999)
L. Meyer & H. Aguilar, 'In the Shadow of the Mexican Revolution: Contemporary Mexican History 1910-89' (Austin, Texas, 1993)
S. Brunk, 'Emiliano Zapata!: Revolution and Betrayal in Mexico' (University of New Mexico Press, 1995)
S. Brunk, 'The Posthumous Career of Emiliano Zapata: Myth, Memory, and Mexico's Twentieth Century' (University of Texas Press, 2008)
P. Garner, 'Porfirio Díaz' (Longman, Harlow, 2001)
J. Hart, 'Revolutionary Mexico: The Coming and Process of the Mexican Revolution' (Stanford, 1987)
A. Knight, 'The Mexican Revolution' (CUP, Cambridge, 2 vols., 1986)
T. Benjamin, 'La Revolución: Mexico's Great Revolution as Memory, Myth and History' (Austin, Texas, 2000)
J. Brown, 'Oil and Revolution in Mexico' (Berkeley CA, 1993)
F. Katz, 'The Life and Times of Pancho Villa' (Stanford, 1998)
J. Womak, 'Zapata and the Mexican Revolution' (Thames and Hudson, London, 1968)
A. Warman, 'We Come to Object: The Peasants of Morelos and the NationalState' (The John Hopkins University Press, 1980)
Stephanie Mitchell & Patience A. Schell (eds.), 'The Women's Revolution in Mexico, 1910-1953' (Rowman & Littlefield, 2006)
Jocelyn Olcott, Mary Kay Vaughan and Gabriela Cano (eds.), 'Sex in Revolution: Gender, Politics, and Power in Modern Mexico' (Duke University Press, 2006)
Matthew Butler, 'Popular Piety and Political Identity in Mexico's Cristero Rebellion' (OUP, 2004)
M. Werner (ed.), 'Encyclopaedia of Mexico: History, Society, Culture' (Fitzroy Dearborn, Chicago, 2 vols., 1997)
Featured in...
Browse the 20th Century era within the In Our Time archive.

Historical themes, events and key individuals from Akhenaten to Xenophon.