Main content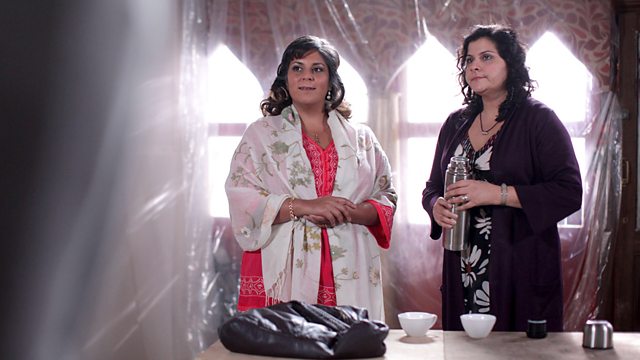 13/01/2011
Emotions run high and years of resentment resurface as Charlie and Kat rake over their past in an epic showdown. Ronnie resolves to make the best of her situation.
Kat stares dazedly at the baby in her arms for a second, then screams at Alfie to get the baby off her. Everyone in the Vic is appalled at what Ronnie has done. Ronnie tries to explain but Jack's disgusted, Ronnie needs help. Ronnie tries to explain to Dot, but Dot tells Ronnie to rest, her baby just needs her to be well. Ronnie visits the children's cemetery and kneels next to 'Tommy's' grave. She tells her baby how much she loves him, but she's making Jack so sad and has to move on, she'll love 'James' for the both of them. She buries the baby's teddy bear in the grave and walks away.
The Slaters are furious that Ronnie gave Kat her baby. Charlie talks to Kat, Tommy's death was just 'one of those things'. Kat's furious, she's haunted by the sound of her baby crying, and she used to love her dad more than anything, but he was supposed to look out for her, it's all his fault that Tommy died. Charlie is crushed, and packs his bags; he's leaving. Mo begs him not to go, and rushes over to the Vic. Alfie and Mo plead with Kat to go after him. Kat and Alfie run to the tube station, and Kat tells Charlie that he doesn't have to leave. Charlie tells her he's doing it for her, he's always loved her. As he boards the train, Kat shouts that she loves him too. Kat and Alfie stand and watch the train depart.
Masood and Zainab pretend to set up 'waitressing interviews' for Tamwar to meet girls. Tamwar's annoyed; he'll decide his own future.
Carol apologises to Tiffany and tries to convince her she imagined seeing her and Connor together. Tiffany plays along, but knows Carol's lying.
Credits
| Role | Contributor |
| --- | --- |
| Kat Moon | Jessie Wallace |
| Alfie Moon | Shane Richie |
| Charlie Slater | Derek Martin |
| Mo Harris | Laila Morse |
| Jean Slater | Gillian Wright |
| Ronnie Branning | Samantha Womack |
| Jack Branning | Scott Maslen |
| Dot Branning | June Brown |
| Bianca Butcher | Patsy Palmer |
| Carol Jackson | Lindsey Coulson |
| Kim Fox | Tameka Empson |
| Ian Beale | Adam Woodyatt |
| Masood Ahmed | Nitin Ganatra |
| Zainab Masood | Nina Wadia |
| Tamwar Masood | Himesh Patel |
| Bushra Abbasi | Pooja Ghai |
| Zulekha Abbasi | Lisa Shah |
| Liam Butcher | James Forde |
| Tiffany Butcher | Maisie Smith |
| Morgan Jackson-King | Devon Higgs |
| Writer | Carey Andrews |
| Executive Producer | Bryan Kirkwood |
| Director | Jennie Darnell |