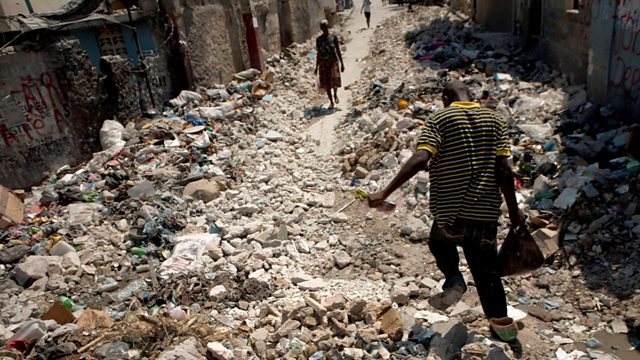 Haiti and the Truth about NGOs
A year after the earthquake, Edward Stourton returns to Haiti to look at problems in the aid industry. How far has the way we help gone bad?
Aid workers have already baptised the earthquake in Haiti a "historical disaster". But despite more than an estimated 10,000 relief agencies flooding the country in the wake of the emergency, the rescue operation has become notorious for the slowness with which aid reached the victims.
More than one million people are marking the anniversary of the quake still living in refugee camps. How can that be when Haiti has attracted billions of dollars in donations and aid pledges?
Critics say foreign aid groups were out of control - that they failed to coordinate and were therefore ineffective; that they swamped some areas leaving others untouched. One NGO evaluation described a 'wild west' situation.
In Haiti, Edward talks to UN officials responsible for coordinating the humanitarian response, to local aid watchdogs about how aid is failing to meet needs, and to Haitian grassroots NGOs about a different way to deliver help where and how it is needed.
Is what has happened in Haiti symptomatic of a wider crisis of humanitarianism?
Insiders say many aid agencies have been compromised by business imperatives and increasing political ties. Inside the sector there is growing concern about previously taboo issues of aid corruption and abuse, and ways to improve weak accountability and deliver relief that local people really want.
An insight into the aid industry as it faces challenging times.
Producer: Eve Streeter
A Blakeway production for BBC Radio 4.