Main content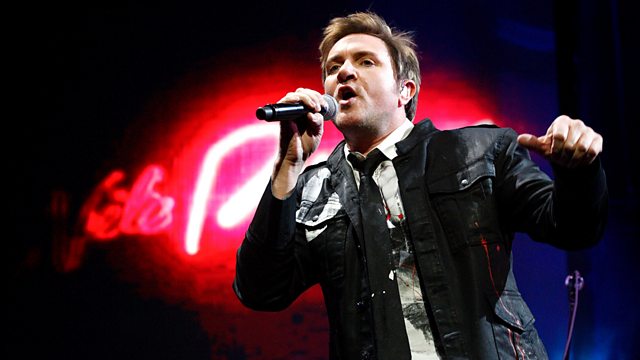 Simon Le Bon of Duran Duran
John Wilson talks to Simon Le Bon, front man of Duran Duran; Trevor Eve plays an international hostage negotiator in TV drama; Hugh Dennis on his new improvisation show.
John Wilson presents.
Trevor Eve plays an international hostage negotiator in a three-part TV thriller. When British businesswoman Naomi Shaffer (Emma Fielding) is kidnapped in South Africa, Dominic King (Trevor Eve) is employed to negotiate her release, but at the handover things go horribly wrong.
Simon le Bon has been the front man for Duran Duran for just over 30 years and with the release of their new album All You Need Is Now, he looks back over the three decades of ups and downs and the heady days of Girls on Film and Rio in the '80s.
Comedian and actor Hugh Dennis talks to John Wilson about hosting the new comedy improvisation series, Fast and Loose. In each programme, two teams compete against each other in a succession of games that spoof films, TV shows and music - using sketches or quick-fire questions, visual trickery and even interpretive-dance. Hugh considers improv in general and how his upbringing as the son of a vicar may have helped his performing style.
A new exhibition about the death of analogue technology features images of professional darkrooms taken by the photographer Richard Nicholson. When he shot the images in 2007 there were over 200 darkrooms in the London area alone, by 2010 only eight remained. Photographer Anna Fox, who has seen the exhibition, discusses the lore of the darkroom with John Wilson.
Producer: Philippa Ritchie.
Last on
Chapters
Simon Le Bon

Simon Le Bon

John Wilson talks to Duran Duran's Simon Le Bon.

Duration: 10:30

Kidnap and Ransom

Kidnap and Ransom

A review of Kidnap and Ransom starring Trevor Eve on ITV1.

Duration: 04:40

Hugh Dennis

Hugh Dennis

An interview with performer Hugh Dennis.

Duration: 08:06

Death of the Darkroom

Death of the Darkroom

A review of Death of the Darkroom, which is part of the Analog show at Riflemaker Gallery, Soho.

Duration: 04:42

Broadcast