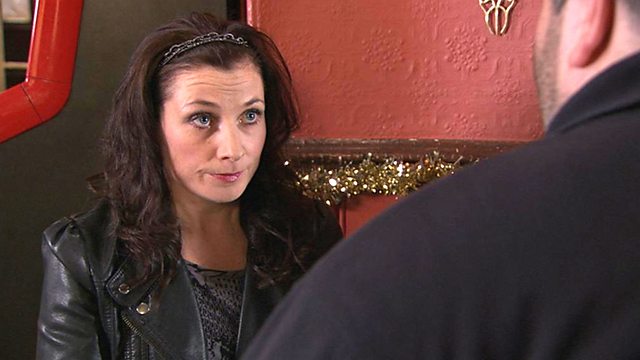 04/01/2011
Things are looking good for Fraser and Amber and their plans for taking Heavenly Herbals to Tartan Week in New York. While Amber fantasises about all the sights to see, Fraser can't resist rubbing their good fortune in Gabriel's face. But, as usual, Fraser has jumped the gun. As he revels in his apparent success, Murray is busy helping Ed from the church planning committee finalise plans for their proposed play park on the same site. Fraser is furious at his dad for stealing the site from under his nose. Determined to have his plans go ahead, Fraser takes matters into his own hands. In the middle of the night he ropes Deek into helping him dump industrial waste on the site. Deek reluctantly helps but gets some of the waste on his arm.
The next morning, everyone is shocked to discover the waste - the church will now have to sell the land. A cheery Fraser arrives and offers a derisory sum for the contaminated land - Murray finds it all a little convenient. With residents concerned about the waste that's been found, Fraser and Deek try to convince them that their factory will be good for the area. However, Gabriel forces Deek to reveal his nasty burn, much to the suspicion of all. Fraser feigns surprise and, in private, tells Deek to take the rap. But Deek's not stupid, his silence will cost Fraser a 50 percent share in the business.
As Fraser works on convincing Ed that he had nothing to do with the waste, Murray discovers Fraser's architect's plans. Murray is immediately suspicious but Fraser denies everything. Murray goes to see Amber and gets the confirmation he needs - Fraser lied about being with her last night. Ed is all for accepting Fraser's offer until Murray arrives at the last minute and tells Ed that his son isn't to be trusted. Fraser can't believe his own father could do this to him.
Iona worries that Bob is moving too fast for her - maybe they were better off as friends? Bob seeks advice from Charlie and confesses he's a virgin. Charlie reassures Bob that he's best just to go for it with Iona. Taking Charlie's advice, Bob arrives at Iona's and dives right in. It doesn't end well but other than a wee knock to the head, there's no real harm done. They agree to take things slowly.
Robbie moving in with Bob and Deek doesn't get off to the best of starts with Robbie taking over the flat and accusing Bob of homophobia. It's all in jest to start with but, when Bob returns from Scarlett's doctor's appointment, he isn't in the mood for jokes. He tells Robbie that some people have real issues, and that he's not got a problem with Robbie because he's gay, he's got a problem because he's lazy and selfish. Robbie is left with food for thought and seeks Hayley's assistance in the form of a makeover. It doesn't exactly go as planned and Robbie realises, who was he kidding? He's perfect just as he is!
Scarlett finds out that her operation was successful but that chemo needs to start immediately. Jimmy and Scarlett discuss the fact that they can't have any more children and that they have a long battle ahead but they'll fight it together.
Last on
Credits
| Role | Contributor |
| --- | --- |
| Amber Murdoch | Lorna Anderson |
| Gabriel Brodie | Garry Sweeney |
| Bob O'Hara | Tom Urie |
| Iona McIntyre | Claire Knight |
| Annie Sobacz | Reanne Farley |
| Ed | James Bryce |
| Murray Crozier | Brian Cowan |
| Bob Adams | Stephen Purdon |
| Derek Henderson | Gordon McCorkell |
| Robbie Fraser | Gary Lamont |
| Scarlett Mullen | Sally Howitt |
| Jimmy Mullen | Billy McElhaney |
| Hayley McCrone | Pamela Byrne |
| Gina Hamilton | Libby McArthur |
| Stella Walker | Keira Lucchesi |
| Scott Wallace | Tony Kearney |
| Oncology Doctor | Ghizala Avan |
| Ruth Carroll | Morag Calder |
| Andy Carroll | Jamie Michie |
| Liz Buchanan | Eileen McCallum |
| Raymond Henderson | Paul Samson |
| Molly O'Hara | Una McLean |
| Charlie Bowie | Ryan Smith |
| Director | Patrick Harkins |
| Writer | Gerard Sampaio |