Main content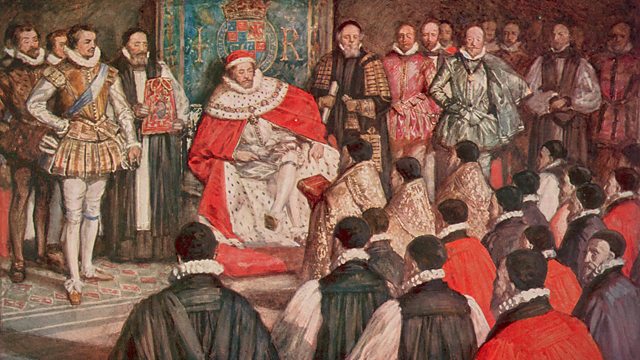 James Naughtie tells the story of how a committee of Bible translators produced a great work of English literature.
In the second of two programmes marking the 400th anniversary of the publication of the King James Bible, James Naughtie tells the story of how six companies of men produced a new translation of Bible which has come to be regarded as one of the greatest works of English literature ever produced.
The programme opens in the main quadrangle of the Bodleian library. A statue of King James stands high over the courtyard, books in hand. The King loved the Bodleian. In a visit there in 1605 he said that he would love to spend his life chained alongside the library's chained books.
The translators in London, Cambridge and Oxford drew on several earlier translations of the Bible as they went about their work. In the chapel at Hertford college, Oxford, Jim sees a stained glass window of William Tyndale, the first man to translate the Bible into English directly from Hebrew and Greek. The translators drew heavily on his work. Many of the phrases that come to mind when we think of the King James Bible are in fact those of Tyndale. The translators had several other Bible translations at their disposal too. Each had their own agenda; the Great Bible with its frontispiece depicting the idea of Royal Supremacy; the Puritans' Geneva Bible which challenged that very idea.
One of the Oxford companies of translators worked in the Tower room at Corpus Christi college. It looks much as it did in the 17th century with the crests of the Oxford colleges embossed around the ceiling and wooden panelling. This was the room of John Rainolds, the college president and one of the "godly." It was Rainolds who as head of the Puritan faction had initiated the new translation at the Hampton court conference. The company met there because Rainolds suffered from gout. He died in 1607 - but most of his company's work was already complete.
James is shown two extraordinary documents which reveal how the translators worked. One, a 1602 copy of the Bishops Bible, contains annotations made by the scholars suggesting alternative translations. The other is a copy of notes made by one which reveals the mind of the revision committee which met to review the translations of all the companies.
James Naughtie goes to Stationers Hall in London where that revision committee met. It's here that the King James Bible would have been read out loud for the first time. As James hears the opening words from Genesis, he reflects on the achievement of the translators in giving a version of the Bible which has come to be our "national epic.".
Last on
Broadcasts